Past the Water's Edge: Central African Republic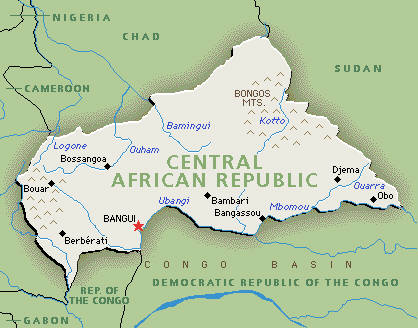 Kathleen Schaaf
November 27, 2013
Non-OECD Countries making waves in international politics.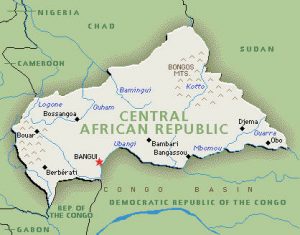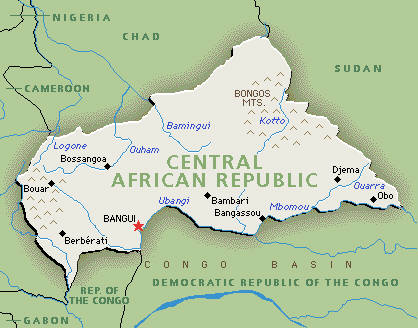 Official Name: Central African Republic, abbreviated CAR
Capital City: Bangui
Location: Central Africa
Population: 5,166,510 (July 2013 estimate)
Per Capita GDP: $800 (2012 estimate)
Government Type: Republic
Religious Composition: 35% indigenous religions, 25% Protestant, 25% Roman Catholic, 15% Muslim
Source: CIA World Factbook
Making Headlines: Since the March 2013 coup that removed President François Bozizé and installed current president Michel Djotodia, the CAR has experienced increasing levels of violent conflicts. UN Deputy Secretary-General Jan Eliasson told the Security Counsel last Monday that the CAR "is descending into complete chaos before our eyes"; former colonial power France said it was "on the verge of genocide."  On November 26, the Washington Post published an article detailing the situation. The current government is controlled by a rebel group called the Seleka. Responsible for the March 2013 coop, and headed by Djotodia himself, the Seleka has been accused of violent rape and looting while storming through villages across the nation. Opposing them are self-defense groups who are "provoking revenge attacks." To date, more than 400,000 Central Africans have been displaced by the attacks and an unknown number of people have been killed.
Future Outlook: Plagued with violence and rebellion since its 1960 independence from France, disease and poverty are highly prevalent in the Central African Republic. According to the CIA World Factbook, the CAR holds the world's 6th highest death rate, with the 5th highest maternal mortality rate and the 4th highest infant mortality rate. This is largely due to widespread AIDS infection; 4.7 % of the adult population is inflicted with HIV/AIDS, ranking 16th highest in the world. The Central African Republic's GDP per capita is just $800. Being a landlocked country, opportunities for economic growth are limited. The CAR does have rich reserves of diamonds and timber, which account for most of its exports. Most of the country survives on subsistence farming. Amid the ongoing conflicts, former colonial ruler France is sending 1000 additional troops to the country.  Should this fail to stem violence, the United Nations would consider sending peacekeeping troops.