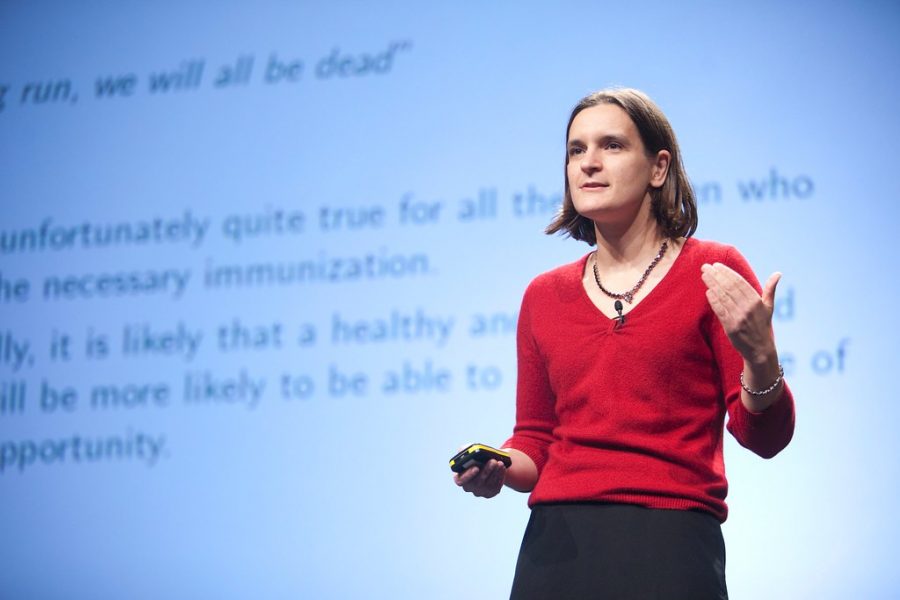 Dr. Esther Duflo, the youngest individual and second woman to win the Nobel Prize in Economic Sciences, spoke to the Vanderbilt community on November 14 as a part of the Vanderbilt Economic Department's Steine Lecture series. Dr. Duflo, along with Abhijit Banerjee and Michael Kremer, won the Nobel Prize this year for their research in developmental economics and poverty alleviation through the use of randomized control trials. 
Duflo has effectively brought economic theory out of the ivory towers and into the hands of everyday people by publishing novels and giving TED Talks about developmental economics to broad audiences. The packed Flynn auditorium in the Vanderbilt Law School brought together people from across the Vanderbilt community eager to listen to Dr. Duflo speak about her newly released book, Good Economics for Hard Times. Her lecture was broken into four main lessons:
1. Incentives are Overrated.
Duflo explained that our current macroeconomic models overstate the value of financial incentives. Just as policymakers hesitate to raise taxes since they believe it would disincentivize work, welfare benefits are often not raised. Duflo claims that these assumptions are not rooted in truth, and we must work to debunk the myth of the "lazy" welfare recipient. By understanding that individuals are not heavily influenced by financial incentives, we can develop policies that lift people out of poverty rather than keep them down due to fear of misuse.
2. The Economy is Sticky. 
Duflo went on to show that people are much less mobile than we expect. Because of childcare costs, established social networks, and job status, people are less likely to move for better financial opportunities, meaning we need to focus on localized growth. Given that both capital and human resources do not move as quickly as commonly predicted, we may have been modeling economic growth in ways that have overstated mobility.
3. De Gustibus (in matters of taste)
Duflo argues that our environment and experiences are important factors in determining our tastes and preferences, and we must consider this when formulating economic policy. It is traditionally believed that tastes are strongly-held and independent of our environment, but our preferences are actually quite malleable and fleeting. When considering solutions to issues like climate change, Duflo believes that we will all have to dramatically change our consumption habits — something that is entirely plausible, given that our preferences are flexible.
4.  Dignity Matters.
When making social policy, we must understand the importance of human dignity. She explained that to be productive, we must "put dignity back at the center of social protection." She jokingly termed the American welfare system a "Victorian hangover," in that we continue to stigmatize those who are a part of the system, just as the elite did with the poor during the Victorian era. This discourages people from asking for help and has led to a dramatic increase in deaths of despair in America. As a society, we have been trained to look down upon those who receive welfare, stripping the dignity of anyone who finds themselves in a difficult financial situation. 
Dr. Duflo concluded her talk by explaining that effective economic policy involves both economists and everyday people, and is not based on unrealistic assumptions about society. She believes that we must look deeper into understanding human nature and behavior if we want to find economic policy solutions for problems such as poverty, immigration, and climate change. All these issues can be alleviated, she contends, with smart and intentional economics.