State Parks in Nashville Step Up to Save the Bees
Long Hunter State Park and Bicentennial Capitol Mall State Park are working to "save the bees" by acquiring and maintaining beehives through the Tennessee State Parks Honey Project. Although still in the early stages, each park plans to use its hives to spread awareness about pollinator endangerment and encourage the public to do what it can to help. 
The Honey Project, which supplies the beehives, aims to promote pollinator and environmental health, provide experiential learning opportunities, and produce fresh honey for its visitors. Having grown from involving only six parks in 2018 to its current peak of 31, the initiative began in response to the increasing existential threat faced by pollinators. This concern follows from the unsustainable mortality rates observed in managed bee colonies and how 40 percent of insect pollinators currently face extinction. This is economically concerning as well, since the value of crops that require pollination is estimated to be more than $119 million in Tennessee and more than $14.6 billion nationally.
The biggest reason to have the bees here right now is to get people excited about pollinators at home.
Long Hunter State Park, located on the eastern edge of Davidson County, has maintained two beehives since first acquiring them about one year ago. Although the park shows its bees to "junior rangers" who are children of six to 14 years of age, the park does not typically allow the greater public to interact with the hives as of now. Once the hives become stronger and more established, which could take another year, the park intends to include more people through programming and honey sales. Nevertheless, the park has not ruled out incorporating the hives into its upcoming summer programming.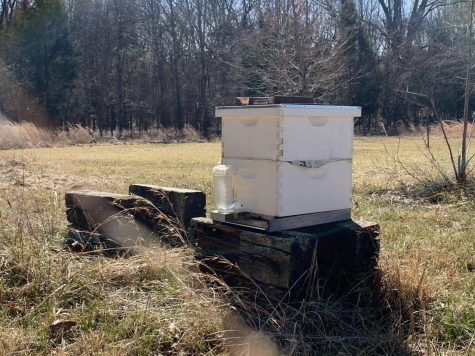 Just behind the Tennessee state capitol, Bicentennial Mall is in the process of acquiring hives of its own. Having worked for about a year to get the proper gear and training necessary for beekeeping, the park is finally ready to install some hives this April. Programming will revolve around educating people about pollinators and the importance of bees and will include example hives and beeswax activities. The hives will be visible to those taking a stroll through the park, and although current programming plans do not include the wider public, the park is certainly interested in doing so. 
I think it's really important to involve the community– it's everybody's park, not just ours.
The Honey Project is not the only Tennessee initiative designed to help save the bees. The Pollinator Habitat Program similarly seeks to restore natural vegetation that is essential to pollinators and establish best practices for vegetation management on roadsides. The Tennessee Department of Transportation has also recently practiced swath mowing, in which only a strip of roadside vegetation is mowed, leaving behind ample space for natural vegetation to regrow. This plan began in 2013 and now includes all state highways for a total of 13,807 miles of natural vegetation.
The government of Tennessee also provides tips for those interested in facilitating pollinator health. Some include incorporating a mix of native plants in one's garden, reducing or even eliminating pesticide use, and leaving a basin of clean water outside for pollinators to utilize. People can also donate to the Honey Project, volunteer at state parks, and even purchase a "Save the Bees" license plate to help fund beekeeping efforts across the state. As Ranger Aaron recommends, even something small, such as putting a few flowering plants on an apartment balcony, can go a long way to help save the bees. 
Image Credit: "Save the BeeS!" (unmodified) by Rima R is licensed under CC BY-SA 2.0