Democracy or Dictatorship: Uganda's 2021 Presidential Election
In January of 2021, incumbent Yoweri Museveni was re-elected to his sixth term as president of Uganda. This result has been marred with controversy, as many, including opposition leader and opponent Bobi Wine, contest the results and allege election fraud.
Museveni, serving since he first took power via an armed uprising in 1986, was formerly an official within the Ugandan guerilla force known as the National Resistance Army, who seized power from former President Milton Obote. Beginning his rule as a democratically elected president in 1986, Museveni began to settle within his power base and has amended Uganda's constitution in order to put himself in a stronger position of power. In 2004, Museveni was instrumental in overturning the constitutional age limit and term limit on those that could hold presidential office, in order to remain in power.
As a prominent figure in Ugandan politics, Museveni has managed to maintain power since 1986 with little to no opposition. Many competitors see no point in standing up to Uganda's longtime leader, and those that do, historically have faced ramifications leading to their removal from the election process or imprisonment.  
During the 2006 presidential election, Museveni's main opposition, Kizza Besigye, was charged with treason, concealment of treason, and rape, but later released. After Museveni once again won the election, Besigye contended the election was fraudulent, and the case was sent to the Supreme Court of Uganda. The Court determined that though the election was full of voter intimidation, violence, and disenfranchisement, the results would still be upheld.
During the 2011 presidential election, the European Union called the results of the election and Museveni's win into question due to suspected fraudulent activity. Besigye also led protests, resulting in his eventual arrest, which then in turn sparked even more protests.
Throughout his time in office, many international organizations and non-governmental organizations (NGOs) have noted and worked to combat instances of misconduct and violations of human rights under the Museveni regime. Specifically, the main issues found are the persecution of homosexuals and election fraud. While international eyebrows have been raised at questionable conduct by Museveni and his government, no significant international effort has been made to combat them.
For the 2021 presidential election, Yoweri Museveni faced a different kind of competitor. Bobi Wine, a famous Ugandan singer, entered the race under the National Unity Platform political party.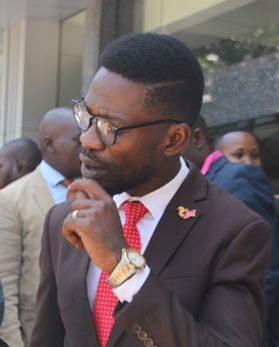 The campaign season, which began in late 2020, was in the midst of the global Covid-19 pandemic. As such, numerous strict safety protocols were put into place, and many new guidelines governed the ways in which candidates were allowed to campaign. In-person events were formally banned in several Ugandan districts that historically have favored opposition to Museveni. In January of 2021, following a dispute with Facebook, a complete internet shutdown was ordered, just two days before the election was slated to take place.
Bobi Wine, who ignored many of these Covid-19 related restrictions to hold rallies, was arrested several times. These arrests sparked violent riots and protests, turning the streets of the capital Kampala into chaos.
After election results showed Museveni winning with 58.38% of the vote, Wine and his team alleged fraud, an accusation that was later rejected by the Supreme Court of Uganda, meaning Museveni was declared as the victor of the election.
But not everyone holds Museveni in contempt. Many Ugandans today still feel he is fit to be the leader of the country and has greatly enhanced many aspects of Ugandan governance and society.
Kawamara Ethan Mugire, a Ugandan student at Indiana University, stated, "President Museveni has done wonders for the nation, allowing transformation in numerous sectors." In acknowledging the concern around his long stay in power and reluctance to leave office, Mugire responded, "His long stay in power will always be criticized and used against him."
As for Bobi Wine, Mugire doesn't think we've seen the last of him in Ugandan politics.  Wine is a young politician and Uganda "is a country of young people." Mugire is however unsure if Wine has the ability to capture "national appeal" being that he "only appears to have support in Central Uganda." 
Some, however, remain critical of Museveni and his rule in Uganda. A Vanderbilt student who wished to remain anonymous, explained, "[Museveni] started out good with promises of democracy and actually achieving relative peace and stability for Uganda." The student thought the problems came as Museveni held office for longer, and elected to "take the classic dictator route and suppress opposition." In terms of the situation in the broader scope of African politics, the student stated, "I would say that what happened in Uganda is the same story we see in a lot of other African countries."
While the future of politics in Uganda is uncertain, it is clear that many have differing opinions about the current situation in the country.  With the current global pandemic and Museveni indicating he intends to remain in office for as long as he can, Uganda may become a hotbed of violence and chaos in the coming years.
Featured Image Credit: "President Yoweri Museveni of Uganda, speaking at the London Summit on Family Planning" (unmodified) by DFID – UK Department for International Development is licensed under CC BY-SA 2.0