SATIRE: VPR Endorses Jay Cutler for School Board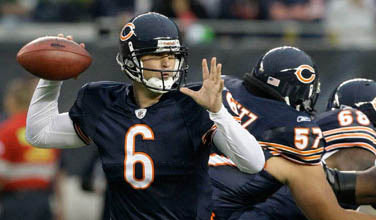 Image: "chicago-bears_jay_cutler" (unmodified) by Chris C. is licensed by CC BY-ND 2.0
While we at VPR have never made a political endorsement, as we are an apolitical forum, the strength of Jay Cutler's candidacy gives VPR no choice but to endorse Cutler in his upcoming School Board election.This August, prominent Vanderbilt alumnus and Williamson County, TN resident, Jay Cutler, announced his intention to run for Williamson County School Board. Inspired by the protest of a Williamson County School Board meeting which garnered national attention for incivility, the true embodiment of American discourse, Cutler decided to step up.
"I think the county where I live there's a lot of parents there's a lot of families that weren't heard by the school board," argued Cutler on Fox Business's "Varney & Co.," referencing a meeting where protesters confronted school board members, leading to the opening of a police investigation.
Cutler, born and raised in Santa Claus, Indiana, is exactly the type of person Williamson County needs. Above all else, he takes no prisoners. The former longtime Chicago Bears quarterback is known not only for his athletic prowess but also for his unsportsmanlike swagger. Having garnered a reputation of being uncooperative with teammates, unafraid to criticize both his allies and opponents, and disrespectful to fans, Cutler frequently appeared dissatisfied and grumpy in pictures. As a result of these displays of his frustrated and condescending demeanor, Cutler became the subject of the Smokin' Jay meme. These images, taken of a frustrated Cutler, were edited such that he appeared to be smoking a cigarette. They went viral in the 2012 and 2013 football seasons. Though it may seem funny, it truly demonstrates Cutler's willingness to be uncooperative, disrespectful, and contrarian, which are incredibly important traits for leading the institutions that shape the future of Tennessee's children.
Furthermore, as his attitude perhaps shows, Cutler is practical. Unlike many, he knows that when a task is difficult, we should avoid attempting to do it altogether. In his attempt to justify his disapproval of mask mandates, instead of parents using their discretion, Cutler said, "if you think about it, these kids are in school for eight hours. They're taking masks on and off–that air is getting circulated. It just is. It's just a matter of time. You can't put twelve eight-year-olds in a room and expect them to put the mask on and have those on for eight hours a day. It's just not possible." Unlike others, Cutler is prepared to tell the truth. Rather than attempt difficult tasks, we should avoid them altogether, even in the face of childhood illness with unknown long-term side effects. This level of practicality and honesty is necessary for School Board success.
Lastly, Cutler is willing to make sacrifices and take difficulties in stride. As a result of his campaign and vehement anti-mask stance, Cutler has lost sponsorship deals, including a commercial with Uber Eats. In response, Cutler tweeted, "Guess they don't like future School Board members. Frees up my weekend." Another example of his ability to overcome difficulty is that, after researching the Williamson County Board of Education election process, Cutler realized he could not run until 2024. Nevertheless, the football superstar is undeterred. This level of perseverance and personal sacrifice, even if it is a result of an unpopular stance on an uncontroversial position or not knowing basic election rules, is necessary for local government leadership.
As a result, we wish Cutler the best of luck as he pursues public office. Despite the fact that he has no political experience and a rocky track record interacting with fans, teammates, and supporters, he is unquestionably the right man for the job.