OP-ED: East Nashville Mobile Home Community Deserves Secure, Affordable Housing Options
When was the last time you heard "trailer park"? Was it the butt of a joke about rednecks? Or maybe in a Kacey Musgrave lyric? Most people who use the term aren't thinking about trailer parks, or more specifically the people who live within them.
But for more than 20 million people (6% of the U.S. population), mobile homes are one of the last remaining sectors of affordable homeownership. This is the case for the families in the W.C. Mobile Home Community in East Nashville, who currently face eviction from their community, putting their homeownership at risk.
This is concerning considering affordable housing options are both crucial and increasingly hard to come by in the nation's ever-growing housing crisis. In 2019, 37.1 million households were "housing cost-burdened," meaning they spend 30% or more of their income on housing. This problem is exacerbated by the national shortage of 6.8 million rental homes.
Mobile homes, also known as manufactured homes, give low-income individuals the option to own their own unit, which provides more security and autonomy than seeking out a rental unit. But these mobile homeowners still need to rent the land their unit resides on. And mobile home communities have caught the interest of private equity and real estate investment firms. These firms increase lot rents and overcharge residents for utilities and property fees, using any means necessary to maximize profits.
Given the name, it seems that if mobile homeowners were unsatisfied or forced to leave the area, they could always pack up and move. But it is actually incredibly difficult for mobile homes to relocate. Relocation usually costs between $5,000 to $10,000 and can potentially cause structural damage to the home. 
This leaves residents trapped, forced to pay higher fees until they reach their financial breaking point, facing eviction out of the community, and sometimes out of their home itself. They are often forced to leave their unit behind for the property owner to acquire and then rent out at a higher rate. In a boot camp for potential mobile home park investors, RV Horizons co-owner Frank Rolfe compared manufactured home parks to "a Waffle House where the customers are chained to their booths."
This decline in affordability is compounded with mobile home park redevelopment, in which park land will be bought with the intention of evicting all residents and building mixed-income properties in the area. 
This is the fate of the over 50 families in the W.C. Mobile Home Community after Key Real Estate bought the land and proposed in May 2021 to convert the mobile home park to uptown flats, coffee shops, and dog parks. Residents are faced with the difficult decision of a costly move to become a renter in the exploding Nashville rental market or a costly move with their trailer to one of the dwindling mobile home parks in Nashville. 
The W.C. Mobile Home Community residents have pushed back against the unfair treatment they have received during the displacement process, requesting from Key Real Estate "fair compensation" for the cost of moving their trailers and adequate time to relocate. This would cover the residents' most pressing financial costs and give them the ability to keep their unit. 
Nashville Metro Council postponed the vote on rezoning the area and allowing construction plans to move forward to their November 2nd meeting, with the hopes of settling these negotiations, which have been facilitated by Councilmember Sean Parker of District 5 where the park is located. The negotiations have successfully resulted in more time for residents to stay through winter, along with a rent waiver to help them save for their next housing costs. 
However, guaranteed compensation is still being negotiated with Key Real Estate and even if it is secured, this minimal, one-time financial collateral package will not help displaced residents find new communities to relocate to, or help protect their new homes from the same fate. 
In order to adequately support residents and their community, there needs to be legal protections for their property rights. This can come in the form of legally requiring written notice and compensation to residents or by rezoning land plots as mobile home park developments so that would be the only possible land use for the area. 
This could also look like residents coming together and purchasing the land their community resides on to own and operate it as a collective. This cooperative housing model was accomplished in Austin, Texas, when the North Lamar Mobile Home Park residents bought the land their homes sat on from their current predatory landlords, using a $7.15 million loan from the city and a housing cooperative nonprofit. This approach was pioneered by the NH Community Loan Fund and is now scaling nationwide through Resident Owned Communities USA (ROC USA).
Andrea Levere, President Emerita of Prosperity Now and Chair of the Board of Directors of ROC USA, explained to the Vanderbilt Political Review that for residents, "it is essential that public policy and local regulation support homeowners when facing the loss of their homes by passing adequate notice laws and requiring compensation to cover relocations costs, at a minimum and, most importantly, by passing 'opportunity to purchase' legislation to offer residents the first right to purchase their communities." 
Nashville needs to get serious about protecting the rights and quality of life of one of its most vulnerable populations. This means solidifying these protections for mobile home park communities and creating opportunities for resident-owned communities. Further, the people in mobile home parks- who are so often forgotten, mocked, or ignored- deserve respect, financial stability, and a place to call home.
Photo courtesy of Downtowngal, 12/06/2011
About the Contributor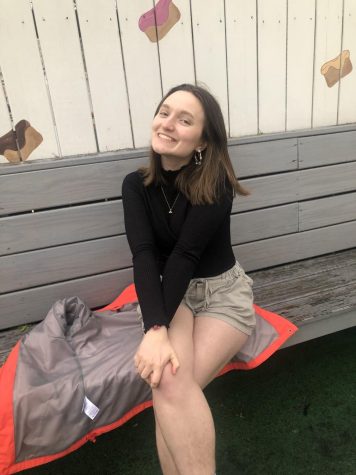 Chloe Hall, Contributor
Chloe Hall is a senior from Louisville, Kentukcy studying Public Policy and Data Science. Her interests include local community development issues particularly...