Finland's Future: A Conversation with Mikko Huatala and Morgan Ortagus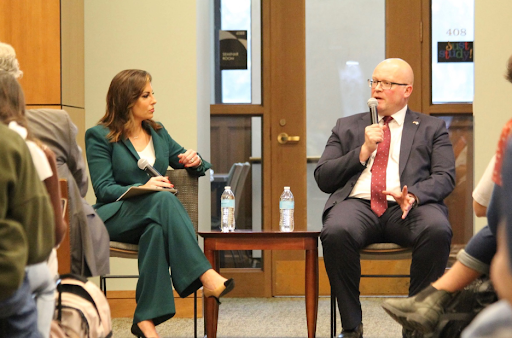 On November 9th, Finnish Ambassador Mikko Huatala and former Spokesperson for the US Department of State Morgan Ortagus held a forum at Vanderbilt University to discuss the war in Ukraine, as well as Finland's role in international politics. The forum began with an introduction from Chancellor Diermeier, who noted that "all eyes are on Europe as it grapples with the threat of war." 
Ortagus commenced the conversation by asking Ambassador Huatala what he believed to be Putin's mindset. Giving insight into Russian perspectives, Huatala responded that Putin views global influence in the US and the West to be weakening. Ever since Russia's poor treatment and humiliation following the Cold War, Huatala believes that Putin has been searching for opportunities to reclaim Russian honor, and the forceful annexation of Ukraine perfectly aligns with Putin's goals for national advancement.
As a result of the war in Ukraine, Finland has petitioned to officially join the North Atlantic Treaty Organization, or NATO. Huatala explained that this move to join the alliance stems from multiple factors. Putin had publicly attempted to entirely exclude Finland and Sweden from NATO, which created great cause for concern among Finnish officials. Furthermore, Huatala explained that when the war began, the Finnish people and government began to see the true violence and disregard of international law. Such blatant disrespect for international order coupled with the increasing brutality of the Russian army drove Finland towards their request to join NATO.
Ortagus asked Ambassador Huatala about the Ukrainian army's performance in the face of such formidable opposition. Huatala responded that "the Ukrainian people would fight to the last person to keep the Russians out…When you are defending your homeland, you are basically defending everything you have. The Ukrainians are fighting for everything they've got…They are showing that the will matters. No weapon alone can do it unless there is a will to defend." As Huatala explained, the Russian invasion seeks to take the Ukrainians' homes, liberties, families, and rights, and as such, Huatala is not surprised that Ukraine has fought back with so much passion.
In addition to discussing the war in Ukraine, Huatala and Ortagus also talked about Finland and Europe's lessons from the war. Huatala appeared proud that Finland did not make the same mistake as the majority of Europe of being dependent upon Russian energy. He also noted that he believed it quite dangerous to constantly appease an attacker, warning that the rest of the world's nations likely should have taken Putin's threats against the territorial integrity of Ukraine more seriously.
Towards the end of the forum, Ambassador Huatala and Ortagus discussed the Ukrainian War's predicted path, as well as what the future holds for the international community. Throughout the forum, Huatala advocated for peace but emphasized that the world must pursue a peace that does not appease the aggressor. As he looks to the future, Huatala remains hopeful yet realistic: "Russia has lost Ukraine, I think, forever."