Zero-Covid incites protests from Chinese university students around the globe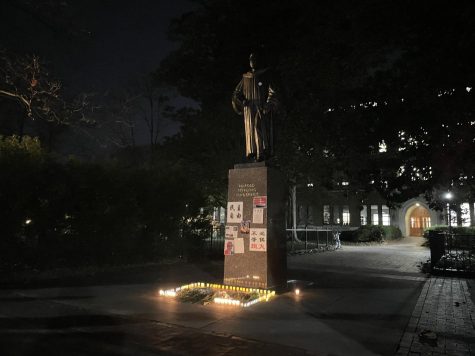 At least ten building residents were killed last Thursday when a fire broke out in an apartment complex located in Urumqi, Xinjiang. Since then, the citizens of China have taken to the streets in many of the major cities, such as Shanghai, Beijing, Xi'an, and Wuhan, as well as others.
The zero-covid policy employed by the CCP has shown little to no leniency in the past years, despite the rest of the world opening back up gradually. This has led to many systematic lockdowns of many districts and cities simultaneously. Urumqi's population of 4 million has been on lockdown since August for over 100 days. Growing unrest finally reached a tipping point when building residents were trapped in a fire because they were blockaded in, unable to escape.
This tragedy has led to protests across Chinese cities, mainly by a younger generation of citizens, especially university students. In response, schools have sent many students home to prevent more protests since Tuesday in large cities like Beijing and Shanghai. For example, Tsinghua University said they protected students from COVID-19 by sending them all home and arranging buses and flights back to their hometowns. 
These students' continued tenacity has inspired and sparked protests outside of China and all around the world in European, American, and Middle Eastern countries alike. Most notably, Chinese international students in dozens of universities in the US have started vocalizing their opinion and commemorating the memory of the Urumqi fire victims. In many schools, such as UCLA, Columbia University, and Washington University, both Chinese students and residents of the areas have been highly opposed to the CCP, chanting in Mandarin for "the Chinese Communist Party, step down" and "Xi Jinping, step down."
Last Thursday, the Chinese community at Vanderbilt University also commemorated the deaths of the victims, as well as voicing their dissent against the current lockdown measures, by hosting their own candlelight vigils.Last Thursday, the Chinese community at Vanderbilt University commemorated the victims' deaths and voiced their dissent against the current lockdown measures by hosting their own candlelight vigils. This was held outside of Buttrick Hall, by the Harold Stirling Vanderbilt statue. Much like in other universities, students put up posters, lit candles, and laid flowers. Despite the risky nature of speaking against the Chinese government, even overseas, multiple student protestors bared their faces to speak freely and discuss the injustice of the zero-COVID policy and the repression of freedom. 
What will transpire from here forth is currently unclear, as the national government in China has given very little response to the dissent of the people. Many sources claim that certain cities have moved to ease "Zero-Covid" rules after this wave of protests, while others claim that little to nothing has changed. As many young, non-violent protesters have been arrested and detained on the streets of Shanghai, there have also been reports of detainees having their phones confiscated, as well as being heavily interrogated. In a separate incident, BBC journalist Ed Laurence also claimed he was arrested and beaten and kicked by the police during his detainment. 
At this time, the only public response available from Xi Jinping was to the European Council, where he briefly stated that "now Covid in China is mainly Omicron, and Delta was much more lethal before and Omicron less lethal, which opens the way for more openness of the restrictions than what we have already seen in some regions." As for the explanation of protests, he stated that "It was mainly students or teenagers in university."
Much remains to be seen on how the CCP responds and whether they will crack down harder on protests or start letting off on restrictions. It is clear that Chinese university students , both in the mainland and overseas have and will most likely continue to speak out and voice their dissent for those who can't, hoping for a better life for themselves and the next generation.