Divisions Exposed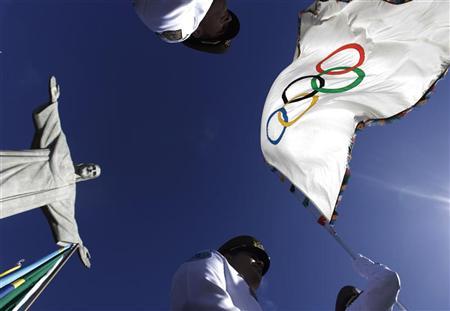 This piece, authored by Wade Boich '15, appeared in the Fall 2013 print issue.
When the typical American thinks about Brazil, one of the first things that comes to mind is soccer. The South American nation has won the World Cup a record five times, and national legends such as Pelé and Ronaldo are among history's most recognizable athletes. When a nation becomes so accomplished on sports' grandest stage, this success becomes inextricably tied to their national identity, and on June 30th, 2013, inside the Estadio de Maracana in Rio de Janeiro, this aspect of Brazil's identity was on full display. The scrappy Brazilians outworked and outplayed a heavily favored Spanish team to the delight of a raucous crowd of almost 75,000. Outside the stadium, however, another side of that national identity was also visible. That night, over 11,000 police officers and military personnel were dispatched around the stadium in order to control an estimated 1.5 million protestors who had taken to the streets after two weeks of unprecedented social unrest. The Brazil-Spain match inside was the final of the Confederations Cup, a relatively small international tournament played a year in advance of the World Cup to demonstrate the next host nation's preparations. As Brazil readies itself to host the World Cup in 2014 and the Olympics in 2016, the presence of significant domestic backlash points to deep problems within one of the world's emerging economic giants. More specifically, approaching World Cup, despite its nationalistic undertones, stands to reveal and exacerbate the unsustainable income inequality hanging over Brazil's future.
Brazil currently sports the world's seventh largest economy, and will likely surpass the United Kingdom – the world's sixth largest – in 2014. While Brazil's selection as the site of the 2014 World Cup and 2016 Olympics highlight Brazil's newfound relevance on the world stage, it is clear that the nation still has a range of pressing economic issues to deal with. Protestors across the country decry everything from a broken education system to elevated bus fares, yet these seemingly disparate grievances all trace their origin back to one glaring problem: a notoriously lopsided distribution of wealth. Despite some success in efforts to combat poverty, Brazil was ranked as the tenth most economically divided nation in the world in 2009. The Brazilian working class has found lavish spending on the upcoming World Cup and Olympics difficult to swallow, particularly when recent host nations have yet to receive returns on their investments. The 2004 Athens Olympics, for example, cost approximately $15 billion, yet many of the expensive venues today sit vacant and crumbling. In South Africa, the host of the 2010 World Cup, many still question the wisdom of having built a brand new 55,000-seat stadium in Cape Town, especially since it cannot be used for much other than a concert venue. Indeed, the "investment" involved in large-scale sporting events has a history of creating "white elephants," or huge, costly assets that prove difficult to use or sell. Concern has already developed over the eventual fate of several new Brazilian stadiums; the Amazonia Arena, for example, is located in Manaus – a city with no major soccer team to fill it. With an estimated price tag of $3.2 billion, the stadium will be host to four World Cup matches and a very uncertain future.
Advocates of such lavish spending, of course, argue that large sporting events have dramatic impacts on tourism and the national economy as a whole. Sports economist David Coates, however, questions the validity of such speculation, pointing out that even the 2006 World Cup in Germany – universally considered a resounding success – failed to have any significant impact on the German economy. Beyond this debate, many members of Brazil's working class worry that they will pay the price for these sporting events while reaping none of the benefits. The 2014 World Cup alone is expected to cost fifteen billion dollars, with a similar expenditure expected for the 2016 Olympics. To make matters worse, no modern Olympic host has managed to stick to its preliminary budget – suggesting that current cost estimations may balloon even further. The most extreme example of this phenomenon is Beijing, which presented a $1.6 billion budget to the International Olympic Committee, yet eventually incurred costs of approximately $40 billion. With these realities in mind, it is easy to see how the population might wonder if the Brazilian government has forgotten about fundamental domestic concerns.
Moreover, these cost estimations loom large over an ongoing teachers' strike, which is now entering its second month. The teachers, who demand higher pay, are only one part of a deeply troubled education system, which suffers from a massive dichotomy between underfunded, ineffective public schools and expensive private schools. This dichotomy only further cements the socioeconomic barrier between the rich and poor in Brazil. A young boy from the favelas – that is, the mountaintop shantytowns around Rio de Janeiro – is put at an extreme disadvantage when compared to his middle and upper class counterparts. Education is one of the proven cornerstones of long-term economic growth, and yet Brazil – a nation that has never fully bought into quality universal education – has chosen to invest in the unproven-at-best economic benefits of two consecutive sporting events.
The lack of funding for services, such as education, is not the only sticking point for the Brazilian populous. The process of preparing for the World Cup and Olympics has involved major overhauls to infrastructure in cities such as Rio de Janeiro, often at the expense of residents. Rio's famed favelas are, in many cases, being demolished to make way for stadiums and highway lanes. To its credit, the government has offered residents compensation and funneled them into new housing developments. Nonetheless, those displaced complain that they have not been paid market price for their property, or that the only housing in their price range is located too far outside the city. While there is certainly a precedent of evicting people from their homes in order to complete public projects, it is never a popular policy – and Brazil's growing populist rage is a partial reflection of that reality.
In fact, this rage will levy even more costs on the Brazilian government. Security was already expected to be a hot button issue at the World Cup and the Olympics due to Brazil's notoriety for both crime and police brutality, yet recent civil unrest has added additional difficulty in maintaining order. In an interview with the Miami Herald this June, Frank Holder – a security consultant specializing in Latin America – claimed that nobody "thought of this as a potential scenario, from a security standpoint." While the Confederations Cup posed a security challenge, the World Cup will play out on a much larger scale. In 2012, the security budget was already estimated at $900 million, and this estimate will only increase in light of popular unrest. Protests have had disastrous impacts on large sporting events in years past; memorable among them is the government-sponsored massacre of student protestors at the 1968 Summer Olympics in Tlatelolco, Mexico. With Brazil's alarming history of police brutality, an incident like this is a legitimate concern.
Although Brazil will enjoy its moment in the bright international spotlight, it is clear that major changes need to occur.  A year from hosting the World Cup, and three years from hosting the Olympics, Brazilian unrest shows no signs of relenting. How the government handles public outrage over the next year will have far-reaching consequences for Brazil's development as an emerging international power. Americans looking on should also take note, given that current trends suggest that the United States' and Brazil's income distribution will look quite similar sometime in the next decade. If nothing else, Brazil clearly demonstrates the danger of an overly top-heavy distribution of wealth, and a government which is unresponsive to basic economic concerns.
[Image Credit: http://s1.reutersmedia.net/resources/r/?m=02&d=20120830&t=2&i=647576507&w=460&fh=&fw=&ll=&pl=&r=ALNE87T0QYP00]