Military Might—A More Aggressive China's International Effects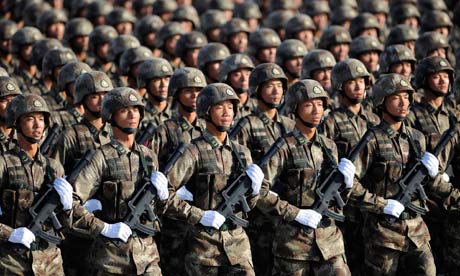 Emily Stewart
March 19, 2014
In twenty-first century international relations, a new global player has more assertively positioned itself to portray a representation of typical hard power politics: China. Nevertheless, China's aggressiveness in the military realm is a relatively recent phenomenon, for its reputation over the past decade has not been one of military might, but rather of economic prowess. In fact, an article in The Washington Post corroborates this notion of economic dominance rather than military aggression, noting, "China has often asserted that its rise is peaceful." While it is true that China's economy will outpace the United States's within the next two decades, until recently, aggressive and brusque assertion of hard power has remained absent from China's ascent as a new global power. According to The New York Times, "China will outstrip the United States as the leading economic power before 2030." Today, though, with a sharp increase in military spending as compared to recent years, China's assertion of global power is a very real threat for the future of international relations—both for the United States's ability to retain influence in the global defense realm and for the potential for change in international power politics.
According to an article in The Economist, China's reported budget for military purposes is $132 billion—a sum that represents a 12.2% increase in apportioned funds for defense since the past year's reporting. While the budget figure necessarily provokes anxiety regarding the questionable nature of such a sustained increase in military spending, China still has yet to outspend the United States's defense budget. In fact, The New York Times notes that China's "military spending is the second largest in the world, behind that of the United States." However, relief shouldn't settle in too quickly, for the same New York Times article also references "foreign military analysts [who] say China's actual annual military spending is higher than the official figure." Even more troubling is the fact that the opposite trend of military spending is occurring in the United States—according to The Economist, "American defence spending over the next five years" is projected to decrease.
Interestingly, though, while military spending has increased, there has been a simultaneous decrease in Chinese economic strength. The Wall Street Journal reports that the increase in "industrial output" was not as great in the first two months of 2014 as compared to that of December 2013. As a result, economic shrewdness in China seems to have been replaced by an aggressive fervor for display of military might. According to The Economist, "military spending is now decisively outstripping growth in GDP." That GDP growth figure stands at 7.5%. Therefore, China's decreasing economic powerhouse status—at least in the short-term—doesn't match up with the fact of increasing prioritization of military might.
The implications of a more aggressive China on the global stage are important, for the inevitable outcome seems that China's economic growth will likely surpass that of the United States. The question now, though, is whether the same might be said of China's military. While a Cold-War type of power politics doesn't explain the current situation between China and the United States due to a lack of assertion of competing ideologies (though the two countries are obviously of different political perspectives), there does seem to be a struggle for global influence. Perhaps China does not see its aggression as a need to dominate the United States in economic and military might, but instead it sees increasing aggression both regionally and globally as a way to benefit its political and economic aspirations. The result? The United States and other countries of the world might consider the consequences of an economically and militarily dominant China on the world stage. Certainly, as stated in The Washington Post, China "will be a challenge to the United States and its allies for years to come."
[Image Credit: http://www.theguardian.com/world/2011/mar/04/chinese-defence-spending-rise]