The Student Who Marched into Kirkland Hall and Changed Vanderbilt
Alexander Slawson
September 30, 2016
You'd be hard pressed to find a current student who has done more to change Vanderbilt than senior Akaninyene Ruffin. Last year, Akaninyene and the Hidden Dores, a student group aiming to increase awareness of minority issues on campus, felt the administration wasn't listening to their concerns. Or, if they were listening, in Akaninyene's words, "they did not get it." Just after noon on November 16th, Akaninyene led a single-file line of over 200 students into Kirkland Hall, each walking silently and each carrying a list of demands for Chancellor Nicholas Zeppos. Initially, she hadn't wanted to go first, but the person who had planned to no longer could. "I've been in Kirkland before," she said. "I've come this far. I'll lead it."  
Together, the long, silent line marched into Kirkland Hall, filed past many equally silent administrators, and climbed the stairs to the chancellor's office. She marched up to his secretary and told her that she had a delivery for the chancellor. "Give it to him yourself," the secretary replied. Akaninyene turned to find Chancellor Zeppos standing right behind her. One by one, each marcher walked past the chancellor and handed him their petitions. The chancellor, holding the growing stack, just smiled and thanked each one of them.  Afterwards, the marchers congregated on the steps in front of the building and declared they would be silent no longer. If they weren't taken seriously, this would be the new normal. Less than a year later, many of their demands have been met.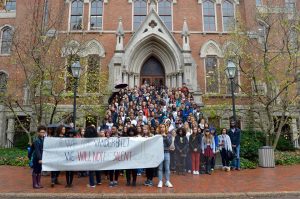 .
Chancellor Zeppos says he will always remember the march, and other meetings he had with Akaninyene and other Hidden Dores leaders. "I was pleased that the petition came forward to make the case on a number of issues with such broad support. I felt empowered to make the right decisions," said Zeppos.
What does it take to lead over 200 student protesters into an administration building? Charisma for one, which Akaninyene has in droves. She has a personality and a presence so big that people frequently think she's taller than she is: only 5'3''. She has an aura of confidence and competence that would make you comfortable following her into places much more intimidating than Kirkland. But organizing and leading a protest like this also takes passion, efficacy, and a deep sense of of civic responsibility, and to find their sources it helps to look into Akaninyene's background.  
Akaninyene Ruffin is the daughter of a black American and a Nigerian immigrant. She's proud of her heritage, glad that she's the descendant of both slaves and free Nigerians.  She was born 7 weeks premature—the result, she believes, of racism.  Her mother had an undiagnosed fibroid tumor while pregnant with her, and, as she believes often happens with women of color, her complaints of pain were not taken seriously enough. By the time doctors did discover the tumor, it was forcing Akaninyene down the birth canal, and it wasn't clear that both mother and child would survive the resulting operation. This experience is part of the reason she wants to go to nursing school.  If people find this an odd choice for an activist like Akaninyene, she has a ready response: "The revolution will require medical professionals." After all, she says, freedom won't matter much if everyone is dying.  
Akaninyene grew up in Montgomery, Alabama, a city that, in her words, "raises a certain type of human."  The city is nicknamed both the "Birthplace of the Civil Rights Movement" and the "Cradle of the Confederacy." It was the site of the bus boycotts inspired by Rosa Parks and the destination of the Southern Christian Leadership Conference's famed 1965 voter rights march. It was also the first capital of the Confederacy. Akaninyene became immersed in Montgomery's violent and triumphant racial history. She lived next to people who marched from Selma to Montgomery and had the scars to prove it. In the 10th grade she met every living Freedom Rider. Fred Gray, the attorney who defended Rosa Parks, was a minister at her church—a church that is two lots away from where Martin Luther King, Jr. spoke and organized. Montgomery and its residents taught Akaninyene to trust in the power of teamwork, just as the heroes of the Civil Rights Movement had depended heavily on their communities. It's why she always redirects praise towards "her team," and it's why it's hard to get her to boast about anything. In addition, Montgomery taught Akaninyene to trust in the potential of young people. Because of Montgomery, when she sees an injustice to be addressed, she asks, "who's to say it couldn't be me?"
The high school Akaninyene attended was elite, inclusive, and racially diverse. She felt valued as a thinker, indifferent of her race, and she assumed that's how elite schools were. She participated in a Duke University summer program and always planned on attending Duke, but, on her way to Durham to visit campus, her parents suggested they stop at Vanderbilt. After 20 minutes, she was smitten. She first gleaned that Vanderbilt might not be what she expected while Facebook-stalking her orientation group before arrival. She realized she was the only black member.  She then looked at Vanderbilt's demographics for the first time to find that only eight percent  of students were black. Having lived in Montgomery all her life, a city with a majority black population, she couldn't fathom a number that low. What's more, she had just returned from Nigeria ten days before move in. Panicking, she asked her mother if they had already sent in the matriculation information. They had.  
Freshman year was tough for Akaninyene. She remembers going for days without anyone making eye contact with her, and she would frequently be knocked off the sidewalks. She felt scammed. "I didn't sign up for the invisibility of being a black woman on this campus." Even Visions, the program designed to help freshmen transition into college, was no respite.  "I couldn't mention that my low for the week was when I saw a guy from my Visions group and he acted like he didn't know me." She wanted to be seen. She "wanted to feel like [she] wasn't a nuisance."
"I didn't sign up for the invisibility of being a black woman on this campus."
This feeling of invisibility has been common for black students at Vanderbilt. As Dr. Roosevelt Noble highlights in Lost in the Ivy, a collection of interviews with Vanderbilt's black alumni, black students have used "invisible" to describe their experience since the school's integration. It was invisibility that inspired the formation of the Hidden Dores. Several upperclassmen, including Jalisia Taylor-Singleton, Joshua Everett, Zipporah Champion, and Robb King, wanted to start a photo campaign similar to I, Too, Am Harvard, which chronicles micro and macro-aggressions experienced by Harvard's minority students. They called their organization the Hidden Dores: Minorities Rendered Invisible at Vanderbilt, and their photo campaign received widespread attention. Akaninyene quickly got involved, and by sophomore year she was chosen as the organization's lead facilitator.  
Meanwhile, the Black Lives Matter movement was gaining momentum. Protests against racial injustice were spreading from Ferguson, Missouri across the country. Students were active as well, including at the University of Missouri, where student protests in the Fall of 2015 caused the resignation of the university system's president. On Missouri's campus, backlash was tremendous. Anonymous social media users threatened to kill black students. One death threat made by anonymous phone call to the university's black cultural center was investigated by the police.  
In the aftermath, many Vanderbilt students took to social media to proclaim solidarity with Missouri and minority students there, but the Hidden Dores felt they had to do more. Still, deciding to stage the march was not easy. Akaninyene knew that it would forever change her relationship with the university. Even more, she knew the march would open up all minority students, not only those who marched, to racist backlash, and in the short term it would make all their lives more difficult. But she also knew that, "if we are who we say we are, then we need to do something." So, they quietly reached out to other campus leaders and started planning.  
After November 16th—after the protesters had congregated, signed their petitions, marched on Kirkland, and made their statement on the front steps—Akaninyene's life did, in fact, become more stressful. She and her team received heavy criticism, much of it vitriolic and racist, and, as a leader, she had to help them withstand it. In addition, she was now recognized as "Akaninyene the activist," and she felt the additional scrutiny. As soon as her last exams were over, she got on a plane for Nigeria, her place of refuge. For two weeks, she was just "Akaninyene, the second oldest cousin of 21." For the first time in a while, she felt like she "fit," a feeling that left once she returned to campus in the Spring. Still, she had to be heartened by the progress. Within a week of the march, Vanderbilt created the position of Vice Chancellor of Diversity and Inclusion and Zeppos filled it with George Hill, who quickly reached out to her and her team. Within the month, Vanderbilt added more staff to the Psychological Counseling Center who have experience working with people of varying cultures and ethnicities. Most recently, in August of 2016, "Confederate" was removed from the name of Memorial Hall. All of these were demands on the petition Akaninyene handed the Chancellor back on November 16th.
Zeppos seems pleased with the changes that Akaninyene and her colleagues have helped bring about.  "I've had some criticism along the lines of 'it looks like you responded to the pressure from students!,'" he said.  "I kind of chuckled and said, 'well, if the students actually have a great idea, why wouldn't I embrace it. After all, there are going to be times when we don't agree, so isn't it best to find that common ground when we can, and for me as a teacher to learn from and with my students?'  That's why I work as a professor, and chancellor, at Vanderbilt, heading into my thirtieth year."
When news of the Memorial Hall change broke, friends called Akaninyene's mom to congratulate her on her daughter's triumph. "Look at your girl," they said, but Akaninyene was having none of it. "Sit and be proud of yourself for a minute," her mother commanded. "But mom," she replied, "there's still so much to do." She is, however, proud of her team's accomplishments. The administration says that many reforms towards inclusivity were already in progress by then, but she knows the protest mattered, and she knows Vanderbilt became a better place the day 200 silent students marched through Kirkland Hall. Akaninyene and her team "stood tall and spoke strongly even when [they] felt invisible." Because they did, in her words, they "will not be written out of the story of Vanderbilt." That's something even Akaninyene can sit and be proud of, if only for a moment.