On January 20, 2017, Donald J. Trump took the oath of office to become the 45th President of the United States. The man who has inspired so much passion on both sides of the political spectrum has finally become our Commander in Chief. He has mobilized a portion of the country that feels it has finally been heard as much as he has mobilized an opposition that wishes to express its disgust throughout his tenure of office. Surely this opposition would not stay indoors and quietly watch "the man with the tan" take the oath of office on television this Inauguration Day.
There was a plethora of events in Nashville on Friday to express discontent with the Trump Presidency. Nashville United in Action planned a rally and march through downtown to protest the President's rhetoric against women, African Americans, and other groups, while Conexión Américas hosted an open house so Nashville residents could write letters expressing their discontent to their Representatives in Congress, Sens. Lamar Alexander (R) and Bob Corker (R), and Rep. Jim Cooper (D). One event in particular caught my attention, though: the "Silent Inauguration" in Centennial Park. The purpose was to gather Trump dissenters to stand in silence for 15 minutes while Trump took the oath of office. The idea was that this symbolic silence would stand in contrast to Trump's harsh rhetoric against Muslim Americans, Mexican Americans, African Americans, women, veterans, disabled people, and others.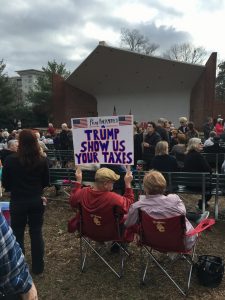 Nearly a thousand people came out to Centennial Park for the Silent Inauguration. There were people of all different ages, races, and motivations, but they all shared one thing in common: they had no interest in being disrespectful. The atmosphere was very positive and patriotic. One of the attendees I spoke with said, "I've been very angry for a while now, and this was a good way of letting it go."
Though the event was anti-Trump, Reverend Judy Cummings of the New Covenant Christian Church led the group in prayer for the incoming President's health and success in office, emphasizing that his ability to lead would determine the fate of the nation we all love. I spoke with the Reverend after her prayer, and she expressed her optimism for the future of our nation. She said, "We are a people of hope. We are never without hope. So there is hope, and I believe in the fundamental goodness of people, so I believe that goodness is going to come out. When it doesn't though, we need to call it what it is."
In the spirit of our enduring democracy, two counter-protesters across the street decided to exercise their First Amendment right. They did so with a megaphone. Attendees at the Silent Inauguration were initially shocked to hear that Democrats and "Femi-nazis" must repent for mass murder and that woman must submit to man, but eventually a chorus of "God Bless America" drowned out the sounds of the megaphone. Certain attendees went over to the protesters to drown out what they thought to be a hateful message. Some of them debated with the two men, while others simply stood in front of the megaphone so that it could not be heard. Despite the differences of opinion, there were no violent incidences. Then it was time for the silence.
For 15 minutes, the attendees did not make a sound, and aside from the speech of the evangelicals across the street, the Earth stood still. It was both a protest of Trump's rhetoric and an acceptance of his presidency. There was no TV, and aside from the few reporters taking photos (myself included), no cell phones or cameras. It was both a call to action and a call for peace and civility. Silence can speak volumes, and this one certainly did. As for the counter-protesters, they never let up on their message, to the annoyance of some of the attendees. Many covered their ears, and some others turned away from the protesters across the street. Eventually, attendees held up peace signs in the air. Though some protests in this country over the past year have become violent, this one did not.
After the Silent Inauguration had finished, I went to talk to the counter-protesters across the street. One of them said, "We come out here to try to be able to give our message, but of course we had a lot of backlash." The other one added, "Unless you repent, you will all likewise perish." The two men insisted that they were not bad people. They were just very passionate about their beliefs. As a nation, we can disagree all we like, but we can't fault each other for being passionate. Passion is part of what makes this country great, because passion inspires people to speak their minds. Passion is what makes democracy work. Sometimes it inspires us to pick up a megaphone, and other times it inspires us to be silent. After all, silence can speak volumes.