Vanderbilt Greek Life's Money Problem
Joshua Mendelson
February 15, 2017
A recent New York Times article cast doubt over higher education's promise of opportunity and social mobility, putting Vanderbilt's own inequity front and center. The article cited research from "The Equality of Opportunity Project" which found that Vanderbilt was one of 38 schools that had more students from the top 1% than in the bottom 60% of income earners. Vanderbilt also held the greatest share of students from the top 1% among 65 other "elite colleges," with 22.8% of the student population coming from families making more than $630,000 per year. The Times article alerted campus to the dichotomizing power of wealth at Vanderbilt.
The Vanderbilt administration has been acutely aware of issues of affordability for low income students. In 2008 they launched Opportunity Vanderbilt to "replace need-based undergraduate student loans with grants and scholarships" and to "remain competitive in attracting highly capable young people whose families. . . will need some financial aid to attend Vanderbilt." In the last 8 years, the Opportunity Vanderbilt program has been able to raise over $200 million dollars for scholarship endowment.
Even though Vanderbilt has made considerable progress in its financial aid program, students who come from families in the bottom 60% (making less than $65,000 per year) still comprise less than 15% of the student body.
While the research published by the Times delved into income inequality broadly, it also raised the question of how financial divisions affect the college climate and the individual student experience.
The push to increase socioeconomic diversity has allowed low-income students to gain a greater presence on campus. However, to simply exist on campus is to live a shadow of the "Vanderbilt experience." While there is a small number of low-income students who can enter the doorway to elite college campuses, far fewer can enjoy all that they have to offer. Club sports, cultural experiences, service trips, and Maymesters, among many other student organizations, can cost anywhere from hundreds to several thousands of dollars per year, which bar a growing segment of campus from participating in these activities.
At Vanderbilt, one of the most contentious and exclusionary activities is Greek life. There have been a variety of campus initiatives to deal with issues of drug use, drinking, hazing, and many different flavors of exclusion within the Greek system. Administrative efforts to bolster the diversity of Greek life have emerged with varying levels of success. Presenting the most imposing obstacle to a robust and diverse Greek system is the divide between low income students and their wealthier peers.
A 2014 statement released by Professor David Weintraub, the chair of the Greek Life Task Force, affirmed the lack of socioeconomic diversity within Greek life, saying, "because of the large increase in recent years of less financially well-off students due to the success of Opportunity Vanderbilt, the high cost of membership in the large, socially dominant, predominantly white organizations is a new problem that divides the student population."
A long historical narrative on campuses here and elsewhere argues that Greek life is a social club designated for the well-off. VPR sought to investigate the affluence of Greek students versus non-Greek students at Vanderbilt.
In a study conducted by VPR, students were asked about their Greek affiliation, estimated household income, and types of financial aid received. A total of 168 students responded to the survey. The results largely verified the notion of Greek life participants being more well-off than their non-affiliated peers.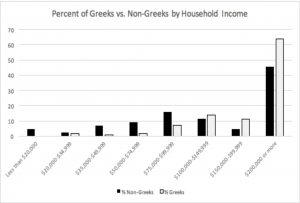 64% of Greek life respondents reported family incomes of over $200,000 per year, while only 45% of independent students came from that same income bracket. On a percentage basis, Greek students dominated all three upper-income categories: $100,000-$149,000, $150,000-$199,000, and $200,000 or more per year. Conversely, non-Greek students held a greater share of all four lower-income levels: $75,000-$99,999, $50,000-$74,999, $35,000-$49,999, $20,000-$34,999, and $20,000 or less per year.
These trends held for financial aid as well. Non-Greek students were more likely to utilize some form of financial aid, with 88% of respondents reporting some form of financial assistance. For Greek students this number was just 56% of respondents..
The data altogether suggests that Greek life sequesters the more well-off students from their less affluent counterparts.
Though many fraternities and sororities provide payment plans and national chapters offer limited scholarships, this does not necessarily ease the burden of Greek fees. Dues can hover around $2000 annually. There is also a mandatory $800 payment to the Vanderbilt Office of Greek Life. These are only the minimum costs. Date parties, formals, apparel, meals, and a variety of other weekend trips can add on over $1000 each year.
For a student who has taken out loans in addition to their financial aid or federal work study job, the financial commitment as well as the time investment required of Greek members can seem like an unaffordable luxury.
Last fall, Vanderbilt began dispensing money as part of "Experience Vanderbilt," a new initiative in response to growing financial divisions on campus. Experience Vanderbilt randomly grants $500 to students who qualify based on their financial aid. In the first test of the program, 1,140 students applied and 109 were granted money. Among the numerous campus programs eligible for students to use funding towards, Greek life was the most frequently cited source of need. Experience Vanderbilt can reshape how hundreds, and maybe one day thousands, of Vanderbilt students spend their four years.
In addition to the impediment that financial segregation poses to a cohesive campus, it may have lifelong effects for students. According to The Century Foundation and Cornell University, "while only 2 percent of America's population is involved in fraternities, 80 percent of Fortune 500 executives, 76 percent of U.S. senators and congressmen, 85 percent of Supreme Court justices" were in fraternities. This staggering overrepresentation of Greek life among the nation's elite intimates that fraternities and sororities attract the wealthy and well connected and then perpetuate this power after graduation. Through nepotism and the exclusive connections offered in Greek life, the capacity for upward mobility is often restricted to those who already possess it. Thus, access to Greek life and access to wealth are connected and mutually reinforcing.
By making campus life more financially accessible, Vanderbilt can move towards a promise of one unified, merit-based campus. However, as Greek life exists today, there is not one Vanderbilt campus, but two: one dominated by the wealthy, and one designated for the less well off.
Blake Sidon assisted with the collection of data used in this article.