More than Just a Meme: How a Picture Sparked a Discussion on Cultural Appropriation and Greek Life at Vanderbilt
Avi Mediratta
March 31, 2017
On Wednesday, a meme posted to a prominent Vanderbilt Facebook group sparked a passionate debate about cultural appropriation. The group, titled "dank new rand memes," is familiar to many Vanderbilt students. It is usually a place of levity, where students make jokes at the expense of campus issues and characters. Humorous photos of Chancellor Zeppos, satires of Vanderbilt's new Quality Enhancement Program called DIVE, and lamentations about the shrinking sizes of Rand Dining Hall cups are mainstays of the group.
All that levity ended when Savannah Hall, a senior, posted this picture: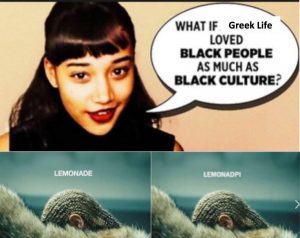 The meme references a photo the Alpha Delta Pi sorority used to advertise their spring fundraising event, LemonADPi. The photo, pictured in the bottom right corner of the meme, borrowed the cover of Beyoncé's iconic album Lemonade, which celebrates black culture and raises awareness of the issues that black women face in America. Upon its 2016 release, Lemonade was widely praised by critics as a powerful statement of African-American female identity, as it highlighted injustice, misogyny, and racial stereotypes. Hall's post quickly garnered attention in the page. There were those individuals who praised the meme, expressing contentment that the Vanderbilt community was having discussions like this.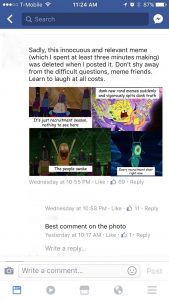 Many felt that ADPi's advertisement was a form of cultural appropriation—that ADPi misused an aspect of a minority culture for their own advantage without giving appropriate credit and consideration to that minority group. Lemonade was a statement about black culture in the United States, and many commenters were upset that the Beyonce's art was used by ADPi to advance the needs of an organization that is largely made up of white people.
Soon after the meme was posted, other commenter's rushed to ADPi's defense, stating that African Americans did not own Beyoncé's album and that anyone should be allowed to use it for any purpose. Many did not understand the discontent with the advertisement, or with Greek life in general.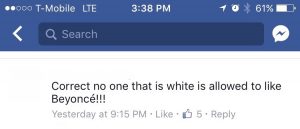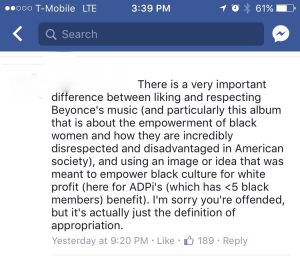 The debate over the photo soon spiraled out of control, and members of both sides began hurling insults at each other.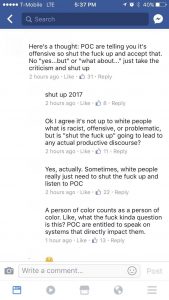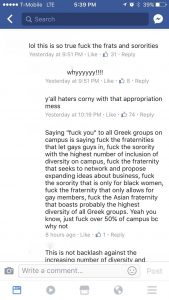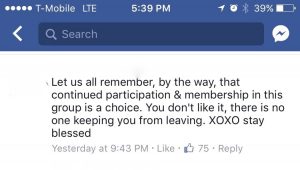 VPR reached out to Savannah Hall, a former member of ADPi, for comment on her now (in)famous meme. She wrote, "My intention behind posting the meme was to call attention to a vital issue that is not addressed by many Panhellenic and IFC members or organizations. I think white Vanderbilt and certainly white, Greek Vanderbilt really struggles to converse publicly about these issues because they are worried about the blowback on their organizations and their friends that work so hard to manage these organizations."
VPR also reached out to individual members of ADPi for comment, but the national sorority's executive office did not allow members of Vanderbilt's chapter to speak about this issue to the press on behalf of ADPi. Technically, though, a third party is allowed to speak to members of the sorority and then speak to the press. An anonymous interlocutor wrote to VPR the following:
"As someone who is close with many ADPi's, I know that they never meant to harm anyone with their LemonADPi cover photo theme nor did they pick this theme with malice in mind. They realize their thoughtlessness and privilege now that their mistake has been brought to their attention, for which they are grateful… They feel much remorse for insinuating such ideas about the nature of Greek life mentality, and are planning to actively combat the issue of cultural appropriation in the future."
It should be noted that this third party quote is not an official statement from ADPi or any of its members. Whether or not the chapter will release an official statement on this issue remains to be seen.
What can be gathered from the events of this past week is that there is growing animosity towards the Greek system at Vanderbilt. Many feel that the general lack of racial sensitivity in Greek organizations is concerning, and they attempt to raise awareness of cultural appropriation on a relatively white campus. The social fabric of Vanderbilt is changing; some students now have higher expectations of the university community in terms of hearing and addressing the grievances of minorities, taking progressive stances on social issues, and being sensitive and respectful to different cultures.
Also, it is no secret that the administration has been cracking down on Greek life. This, combined with some students' antipathy towards Greek organizations, puts Greek life in a precarious position. Campus is changing, and some students accuse Greek organizations of holding up white supremacy, whether intentional or not. This has left many Greeks and non-Greeks alike scratching their heads, since people of color are not at all barred from joining Panhellenic and IFC organizations; in fact, many of these organizations contain students of color. Minority students are allowed access to these organizations, but is there something within the culture of fraternities and sororities that perpetuates a dominant white culture on campus or that drives students of color away from them? How Greek life responds to the changing times will determine its future at Vanderbilt, as more and more minorities are enrolling in the university.
It would be easy to point fingers at ADPi for causing this meme debacle, but the LemonADPi photo controversy is simply indicative of a broader trend at the university.  The members of ADPi who posted these cover photos likely did not do so with malicious intent. Additionally, the debate occurring in the comments thread of the Facebook meme got out of control. Neither of these facts, however, change the distaste certain students have with campus culture as it is, especially with Greek culture. Concrete action towards taking progressive stances on social issues within the Greek community may help alleviate the tension between them and students who feel marginalized. As of right now, though, tensions are high. And to think that all of this started with a meme.