SPOTLIGHT: Ben Lackner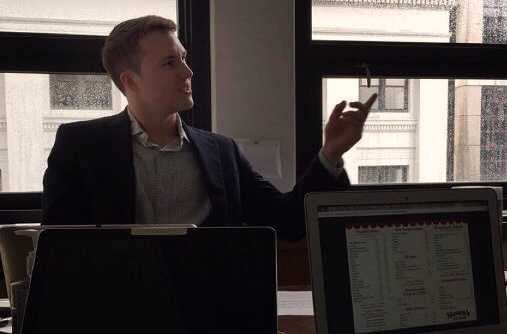 As a rising sophomore in Vanderbilt's Political Review, Ben Lackner has outpaced even his own expectations while working as an intern for Buffalo's mayor, Byron Brown. As Brown seeks his fourth term as the city's first African-American mayor, Lackner is responsible for the re-election campaign's social media presence—a growing role in many campaigns, but in Brown's in particular. The campaign's social media accounts aim to focus on the characteristics of Buffalo that prove the impact Brown's tenure has had on the city and those who live there. Lackner and his fellow campaign workers choose to project Buffalo's overall revitalization on a "micro level" by focusing on a different aspect of the city each day. Lackner explains further by saying:
One day we'll focus on higher education, another on Buffalo's acceptance of refugees, another on a particular district in Buffalo. I think that by doing so we can reach individuals with our messaging and help them realize how beneficial Mayor Brown has been for Buffalo. It's one thing to tweet that Buffalo's unemployment rate has dropped below 5%; it's another to tweet that thanks to a city investment in a particular neighborhood, hundreds of jobs have been created.
By focusing on the city more minutely, the campaign's interns are simultaneously affecting the voters of Buffalo on both larger and more personal levels. When asked what the most challenging part of Lackner's role in the campaign is, the young intern explained the difficulty of crafting tweets that are under 140 characters. When every word is imperative to conveying the right message to Buffalo's voters, cutting 15 characters out of a 165 character message is monumental. Lackner says the responsibility as he composes a tweet reminds him of a Mark Twain quote: "I didn't have time to write a short letter, so I wrote a long one instead." Lackner's description of his job and responsibility within the campaign, albeit small,  mirrors the devotion of the campaign as a whole. The energy of the campaign and the inspiration it has brought to Lackner is evident as he explains the energy present in the office, stemming from the passion and determination the workers have for the city of Buffalo and the further improvements they hope to make for their city. The motivation within the campaign and the impact Lackner feels he is making has made his job seem like far more than a summer internship. Lackner's excitement for the job shines through when asked about it, saying, "Mayor Brown has done an incredible amount for Buffalo. It's our job to make sure everyone in our city recognizes that and understands how he or she has benefitted from the Mayor. When I started this internship I expected–and was willing–to be making cold calls 9 hours a day. I'm incredibly glad that I've been trusted with additional responsibilities."
Lackner's internship is an extension of the hard work he has put into the Vanderbilt Political Review. While discussing the incredible effort put into Brown's reelection, Ben is reminded of a sign hanging in the campaign manager's office that reads "Don't Be Kodak." Although Kodak was one of the world's largest film companies, headquartered in New York, the company chose not to pursue anything digital, rather choosing to revel in their profits from film and falling into bankruptcy. Lackner says the sign is a stark reminder to constantly work harder and to always push the limits of what's possible. This resonates in Lackner's reflection on the work he's done so far in the campaign as he says, "I'd like to think I've contributed to the campaign most by being willing to do whatever is needed in a particular situation. Whether it's putting stamps on envelopes, taking photos of the Mayor at events, or researching new development projects, I feel I've helped the campaign succeed–albeit in small ways." It's evident that Lackner's attention to detail and drive put into Brown's reelection will translate into next year's Vanderbilt Political Review success and help the group find reelection success of their own.