Tobacco's New Frontier: The Rise of E-Cigarettes on College Campuses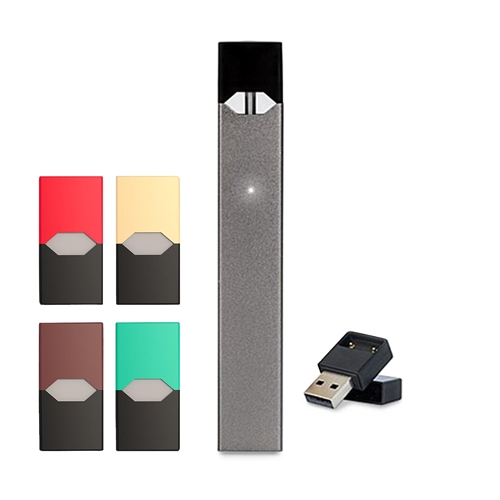 inovestmj11969
January 6, 2018
Last year, the mumps. This year, the JUUL. Vanderbilt's latest epidemic is not a viral infection, but a slim rectangular box resembling a USB drive. Throughout campus, from Central Library to Greek houses, students can be seen smoking through JUUL e-cigarette devices.
Designed in 2015 by Stanford graduate students James Monsees and Adam Bowen, the product and later company was created with the welfare of the smoking community in mind; providing a healthier, alternative source of nicotine to cigarette smokers. While originally a segment of Pax Labs (a prominent vaporizer manufacturer and distributor) JUUL's recent explosion across America has led to over one million devices being sold and $150 million in independent funding. Though intended for adult consumption, JUUL truly has become a staple in the lives of many students at Vanderbilt and in colleges throughout the nation.
Not only can JUUL be harsh on the throat, purchasing the device and its necessary addendums can hurt the wallet, too. In addition to the rechargeable battery, one must regularly purchase cartridges, placed inside the battery (known as JUULpods) filled with the company's nicotine "juice" as they use the device. Online, the device sells for $34.99, while a pack of four JUULpods costs $15.99.
Much of the widespread loyalty to the product is attributed to two factors: product design and the cartridges themselves. The device is intentionally designed to be discreet, portable, and user-friendly. It can fit easily in a pant-pocket while on-the-go and fits in a person's palm when being used. JUUL provides a no-frills approach to today's smoker: it is chargeable by inserting the device into a computer's USB port, contains no buttons, and can be quickly reloaded by simply replacing a JUULpod cartridge through insertion into the end of the battery. Furthermore, the flavors available include traditional tobacco and mint, but expand to niche tastes such as creme brulee, mango, and even cucumber; attracting a younger market that is being shielded from the dangers e-tobacco use in today's culture that denounces combustible cigarettes and smoking. Each flavor pod contains the same amount of nicotine – roughly what is contained in a carton of cigarettes, but in only 0.7 mL – thus providing a stronger "buzz" to the user.
In an anonymous survey on tobacco use distributed via social media polling 230 students, the prevalence of JUUL and other e-cigarettes among this population was revealed. Roughly half of the respondents attended Vanderbilt, while others studied at Duke, Cornell, Yale, Tufts, Columbia, or were currently high-school students. Seventy percent of the respondents reported having used an e-cigarette in the past month, two-thirds of whom noted smoking through JUUL (the next most popular devices listed were market competitors Phix and Blu). Most alarming, however, was that roughly one-fifth of the e-cigarette-using respondents claimed their use of e-cigarettes contributed to their use of illicit drugs.
While JUUL Labs's and many of their competitors' missions, at their core, are to improve the health and alleviate the addictions of current cigarette smokers, their devices have become a social phenomenon among teenagers and young adults. Although a third of the previously mentioned survey participants related their use of e-cigarettes to social pressures ("fitting in"), another third of respondents categorized their use as regular (2-3 packs of cigarettes worth of nicotine per week) or frequent to the point of experiencing symptoms of withdrawal (4 or more packs worth of nicotine per week) without use. At the ages of a typical undergraduate student, eighteen to twenty two, it is unlikely that combustible cigarette use was a frequent part of life prior to college. JUULs may be creating a new generation of nicotine addictions and introducing college students to a lifetime of smoking.
Yes, JUULpods may be healthier relative to a pack of Marlboro Reds, but that doesn't mean they are 'healthy.' Research on JUUL and its long-term health impacts has yet to be conducted given the short timespan of the e-cigarettes' presence in the market. The proprietary formula contains numerous chemicals, including glycerol, propylene glycerol, natural oils, flavor extracts, nicotine, and benzoic acid. These substances listed on the company's website contain known carcinogens – propylene glycerol can be found in antifreeze and high levels of benzene, specifically when inhaled, have been proven harmful to humans. Preliminary scientific research conflicts with many current news stations' coverage of the JUUL – while all of the specified ingredients are harmful in high amounts, scientists still have yet to find a component of the JUULpod liquid that will cause direct harm to the body in the long-run. E-cigarette users simply must wait until more time elapses to obtain more significant and long-term results to make a solid judgement on the absolute level of harm these flash-drive lookalikes cause.
JUUL is surely aware of the young age demographic that is causing their high-profits and seemingly endless demand. In 2017, the minimum age to purchase products on JUUL Labs' website was raised from 18 to 21 to comply with the changes of the minimum tobacco age in many states. However, the company's products are readily available in many gas stations – Nashville included – and JUUL's customer satisfaction program allows users to exchange their used batteries and pods for new models at any time, with any complaint. This easy access to nicotine, without the effort nor smell associated with smoking combustible cigarettes provides a readily available outlet for college students and, in some cases, underage users. Until scientists prove a direct correlation between e-cigarettes and diseases, most importantly cancer, it appears that more college and high school students will be taking puffs, craving nicotine, and emptying their wallets to the profit of the California-based corporation.
—
Local Doctor Warns Parents of Dangers of JUUL E-Cigarettes