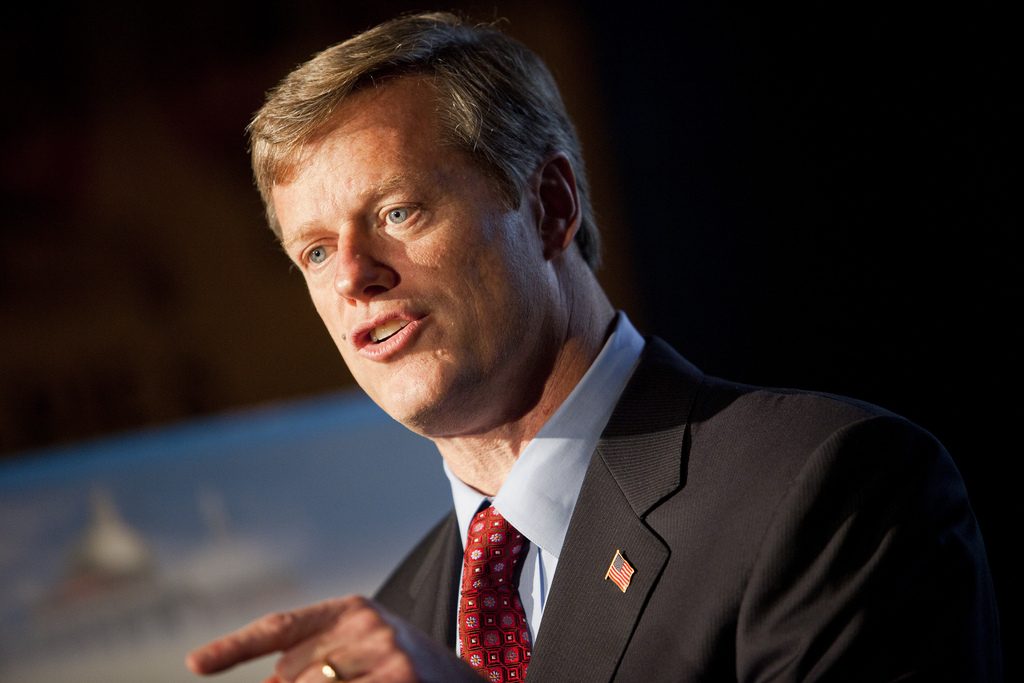 WBUR
Political Anomaly Governor Charlie Baker Reveals the Utility of Deserting Partisan Polarization
It is no surprise that politics has become increasingly polarized in recent years. Ideological beliefs continue to grow further and further apart between the parties, manifested by the major increases in Congressional filibusters and the emergence of a partisan media continually blaming those of the opposite party. In addition, split ticket voting was at an all-time low in 2016, with every state electing a Senator of the same party as that state's vote for president. As winter break comes to a close, many students are sure to return to Vanderbilt with memories of intrafamilial holiday squabbling over the tax plan, the Russia investigation, or even the latest Trump tweet. In every corner of our country, the partisan divide proves to be stronger than ever.
This political reality, however, may not be completely dominant. Governor Charlie Baker, a Republican, is in today's context a political paradox, holding office as the most popular governor in the US despite the deep blue hue of Massachusetts. Governor Baker's approval rating hovers around the low-to-mid 70s, depending on the poll, in a state where only 10 percent of registered voters are Republicans. So, how is this at all possible?
At first glance, one may imagine that the Baker phenomenon is a special circumstance which arose from propitious economic conditions. Although Massachusetts is doing well as a state, a closer look reveals that it ranks around 22nd for the lowest unemployment rate and around 15th for the highest GDP growth– both good but not incredible. According to a WBUR analysis, the relationship between several economic indicators and a governor's approval rating would put Governor Baker's at about 55 percent– far below his actual approval rating in the 70s. This disparity, which indicates a governor's non-economic popularity, is larger than that of any other current sitting governor. This overwhelming popularity is explained by Governor Baker's success in his approach to government:  
"We must have courage to set partisanship aside and embrace the best ideas and solutions, no matter which side of the aisle they come from."
These words were spoken during Baker's 2015 inaugural address. Along with mentioning his intention to work with both sides of the aisle, Baker stressed the necessity to "challenge the status quo" in ways to deal with Massachusetts' budget deficit, educational opportunities, and Massachusetts' carbon footprint.
Only two years since his inauguration, Governor Baker has put such words into practice. Baker helped close Massachusetts' $765 million budget gap and began the Commonwealth Commitment, a program which rewards successful academic work with more feasible routes to higher education. Furthermore, Baker was one of the ten US governors who agreed to continue following the standards of the 2015 Paris Climate Agreement, which President Trump rejected.
Throughout all of his success, Governor Baker has remained fairly silent on national politics. Baker decided to vote down the ballot in the 2016 presidential election, supporting neither Trump nor Hillary. As governor, Baker generally distances himself from the inherently controversial and hot button nature of national politics, choosing instead to focus pragmatically on what truly matters for any governor– the effective management and wellbeing of the state. For Baker, party polarization is a major obstacle to these goals and is better when abandoned.
As a resident of Illinois, I can fully appreciate Governor Baker's bipartisan approach to government, for Illinois suffered through a 793-day long budget impasse consequent of extreme party polarization. Over the summer, I volunteered my time canvassing door to door, and one of the questions I was supposed to ask was "who do you blame for the budget crisis?" Nearly every person blamed either the Republican governor or the Democratic Speaker of the House, failing to realize the blame was on both sides. Unlike Illinois, Charlie Baker realized that polarization is destructive rather than constructive, and in order to earn meaningful results, one must bridge the party divide which displays a proclivity to keep on growing.
Photo Credit: Election 2010: Charlie Baker, WBUR Boston's NPR News Station, © 2010 WBUR SOME RIGHTS RESERVED, licensed by CC BY 2.0