Vanderbilt Grad Student Arrested at Marsha Blackburn Rally Facing Criminal Charges
On October 28, Justin Jones, a well-known activist and student at the Vanderbilt University Divinity School, attended a Marsha Blackburn rally in West Nashville. He left the event in handcuffs and was placed in jail for criminal trespassing, resisting arrest, and disorderly conduct.
It's unclear exactly what transpired at the event, but videos posted on Jones' Facebook first show a seated Jones refusing an event coordinator's requests to leave the rally. Next, photos show him grabbing onto an individual wearing a red "Marsha" shirt as an officer attempts to detain him. A police officer then kneels on top of Jones and puts him in handcuffs. Afterwards, he cries for help as he is dragged out on his feet and placed in a police car.
Jones, 23, was initially released by Carolyn Piphus, a Nashville Night Court Commissioner. However, Assistant District Attorney Deb Smith, apparently dissatisfied with the ruling, brought the case to the attention of Judge Melissa Blackburn. Blackburn, of no relation to the recently elected Tennessee Senator, then charged Jones with criminal trespassing and resisting arrest. Jones turned himself into the authorities on October 31 and will appear in court on Friday, December 7.
At the event, which featured Blackburn and South Carolina Senator Lindsey Graham, a number of protestors were physically removed. One woman was swept off her feet and carried out by authorities, while another woman in a wheelchair was pushed out by Tennessee Republican Party spokeswoman Candice Dawkins after allegedly raising concerns about Blackburn's role in the opioid crisis. Another protester was removed after yelling "Marsha Blackburn is a white supremacist" during a moment of silence for the victims of the mass shooting at a Pittsburgh synagogue.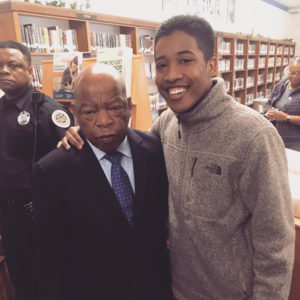 Jones RSVP'd to the event beforehand and later said on the Kenny Smoov Morning Show that he and about ten others attended the rally not to protest, but to "hear for ourselves how the things [Blackburn] said would impact our community". However, he was asked to leave — before Blackburn even had a chance to speak — when organizers recognized him as an activist who has protested and engaged in civil disobedience at other political events in the past. According to a community statement released on Jones' behalf, a law enforcement officer then asked Jones and another African American student, Damaneke Charles, "to step outside to talk about why they were there." When Jones asked to have the conversation inside the event, the officer, along with members of the crowd, "grabbed him and began dragging him outside." Jones was detained and driven to the Davidson County Jail.
Jones reacted to the event by alleging that the incident and his charges were politically motivated and that he was targeted by GOP officials for his race. In fact, Jones would have been off the hook had it not been for Assistant District Attorney Deb Smith, who presented the case against Jones to Judge Blackburn after his initial release by Judicial Magistrate Piphus. Piphus is African American and both Smith and Blackburn are white.
According to The Tennessee Star, District Attorney General's Office Spokesman Steve Hayslip said this was "only the second time that the DA's office has taken this kind of action where a night court magistrate's ruling is overridden by a general sessions judge". The only other instance occurred in September when District Attorney Glenn Funk's office charged Nashville Officer Andrew Delke, 25, with homicide. Delke, a white police officer, shot and killed Daniel Hambrick, 25, a black man who was running away during a foot chase on July 26. The charge reversed an earlier move from a magistrate who said there was not enough evidence to support a case.
Dean and Reverend Dr. Emilie Townes provided a statement on behalf of the Vanderbilt Divinity School in which she emphasized Vanderbilt's commitment "to free speech and the open exchange of viewpoints and ideas." Dr. Townes further stressed the Divinity School's "special concern for… the securing of equal opportunity for all individuals, peoples, and creatures to enjoy God's gifts."
"If you disagree with something that you think is unjust, you educate yourself about the issue or the act and then you practice an active witness by finding peaceful ways to protest it." – Rev. Dr. Emilie Townes
In a statement after the rally, Marsha Blackburn denounced the protesters and called them "absolutely appalling" members of "the liberal angry mob" who "will stop at nothing to disrupt civil political discourse." "Phil Bredesen is their leader, and their behavior is despicable," she concluded. After the protesters were removed, Lindsey Graham added, "I'm a conservative, and I'm happy about it. Apparently, if you are a liberal you are not a very happy person."
Blackburn defeated Democrat challenger Phil Bredesen in the Tennessee Senate election on November 6 with 54.7% of the vote. Jones remains an active civil rights activist, member of Moral Movement Tennessee, and vocal critic of the Tennessee GOP. He will appear in court on December 7.
Image credit: http://tennesseestar.com/2018/10/29/leftist-protesters-kick-scream-punch-at-nashville-rally-for-marsha-blackburn-featuring-lindsey-graham/, http://www.nashvilleledger.com/Editorial_Images/22340.jpg