Talking Voter Suppression with Dean John Geer
Political pundits on both sides of the aisle vehemently debate the prevalence of voter suppression today. Whether this comes in the form of discussions about "fake news" and the influence of foreign actors in our elections, or through the deliberate disenfranchisement of groups of Americans for arbitrary personal characteristics, these concerns clearly cause public anxiety surrounding the validity of our elections. To gather some more answers about the problem of voter suppression in America today, I sat down with Dean of the College of Arts and Sciences, Dr. John Geer, to discuss voter suppression today.

Dr. Geer, the Gertrude Conaway Vanderbilt Professor of Political Science and professor of public policy and education, has researched extensively into presidential politics and and is currently working on a project series looking into how the media covers attack advertising and the effects of negativity on voters' decisions.

In answer to the question of how seriously should we take the problem of voter suppression today, Dean Geer responds that, "Unfortunately, I think it is a serious problem. Of course some might call it protecting voter integrity as opposed to voter suppression — how you want to frame it probably reflects the perspective you're coming from. This country has had a history of making voting difficult. So in this country we have self-registration but in other countries you have automatic registration."

Additionally, Dr. Geer notes that a variety of other obstacles were constructed to prohibit voting ability throughout the history of the US, particularly as a function of racial identity. He lists literacy tests as one of the obstacles, especially in order to block the minority vote in America. These tests were also nonuniform, allowing a voting official to "pick out the really hard test for someone who shows up who is clearly African American," making these minorities destined to fail.

Dean Geer also expressed concerns about the choice of Tuesdays for elections. "Some countries have it on a Sunday. Sometimes there are scheduled voting opportunities, not necessarily national elections [in which] voting can take place in March during the middle of winter in certain places. Why? Because it suppresses turnout."

The Dean further claims that we can personally feel the effects of some of the "typical" methods of voter suppression today: "You know, it used to be that, in New Jersey for example, the big city machines would have a bunch of people standing outside of the polling booth and kind of be there to glare at somebody so that they would just say, I'm not hassling with this, I'm going home. And so the Latino community in this last election, a lot of them didn't vote at a high rate because given the Trump views on immigration… This is a long standing problem in America."

Turning the conversation to in what cases election security turns into voter suppression, the Dean responded, "It is inevitably tied up in partisanship. If in fact this country was not divided by income and party you probably could get more agreement on what to do about voting. But socioeconomic status gives you some predictors of how people will vote. So inevitably where you think that line between voter integrity and suppression is going to be one that's going to be driven by your partisanship. So Democrats have one line and Republicans have another line, and that's a problem. And so therefore it becomes not a debate about the facts and the merits; it becomes a partisan debate."

Even the process of registering to vote can pose a problem. The Dean continued: "Here's another way to keep people from participating. Say you have to register. Well when do you register? Some states have same day voting registration. So let's say you decide to move to North Dakota and you decide you want to vote and the day you go and vote you register and get to vote, and that makes it pretty easy… [I]n Tennessee you have to register 90 days before the election to vote. So that 90 days, that's a long time. That requires a lot of organization, thought and information and it basically has a way of depressing turnout because you're being restrictive."

Beyond even the initial registration process, Dr. Geer also discussed unreasonable ways in which votes can be thrown out, such as controversial voter signature match laws seen in states like Georgia, New Hampshire and Michigan. Even a law requiring a driver's license, for example, might pose an issue when the voter resides in an area where driving might be unnecessary.

When asked if both parties participate in voter suppression, Dean Geer responded: "The short answer is that both parties would like to suppress the voters of the other party. It's not that the Democrats are morally pure, the reason they don't want voter suppression is because they think it helps their cause….Women are 20% more likely to be Democrats than men….[T]he Republicans would love to have an all male electorate and the Democrats would love to have an all female electorate. The Democrats would have lost one presidential election since 1980 if only women had been allowed to vote…. So if you're a Democrat you want to get as many women out to vote as you can. And if you're a Republican you want to get as many men out to vote as you can, on average. I don't want to [frame this] as if the Republicans are motivated by evil things. They have the same motivations as the Democrats but because of the way party politics work right now, some of the policies the Republicans promoted disproportionately affect certain groups."

To conclude, Dr. Geer answered a question about why we should care about voter suppression and how people might help to solve the problem. "We could ease the laws and encourage more people to vote. So we have an incentive–forget about the Republican and the Democratic parties–if you believe in democracy, you want the public to express its preferences in a way that is unfiltered. We need mechanisms that allow people of all stripes, personalities and political views to vote."
"We really want the system to work because we're premising it on that the [public's judgement] collectively, not individual members of it, is sound. And we want to facilitate the expression of that judgement. And that's what we need rules and laws that will facilitate that and not bias it towards one side or the other, not one group or another."
About the Writer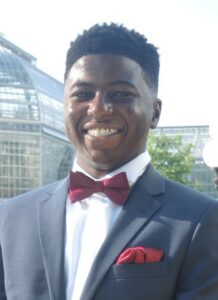 Tony Owusu, Contributor
Tony Owusu is a sophomore from Alexandria, VA majoring in Biomedical Engineering on the pre-med track. He is interested in issues that affect Vanderbilt...