SATIRE: 25 Days of Bliss, or Why I Support the Government Shutdown
As of January 12, 2019, we are now experiencing the longest government shutdown in American history. I never would have thought that a border wall could be the breaking point upon which career politicians put aside their differences to decide, "enough is enough," and force the American system into chaos. In honor of this momentous occasion, I have compiled a list of reasons why I am ecstatic about the government shutdown.
The government shutdown really helped me put myself in congressional shoes — if I were making roughly $10,000 in three weeks while not doing my job, I might consider delaying the bureaucratic process too. (Disclaimer: Several members of both houses of Congress have committed to donate their salaries to charity or asked for pay to be withheld for the duration of the shutdown).
When you take all non-essential personnel off of payroll in D.C., you really get to enjoy the peace and quiet of empty restaurants, shops, service providers, and museums. Watching the way the closure of the federal government effectively kills $1.5 billion in commerce each week shows the real importance of a budget dispute for the country's economy.
Without the government shutdown, I wouldn't be able to enjoy radio silence at the airport. I just love tuning in to the air traffic control station and listening to the pleasant empty hum of the radio as federal aviation employees call out from work because they haven't been paid.
Speaking of airports, even without the government shutdown, I wouldn't have been able to quickly pass through TSA security, so I guess that no one really wins when it comes to bag checks.
I am grateful for the government shutdown because it helped me realize the importance of national park employees who clean up the disgusting messes visitors leave. I wouldn't be able to value the Leslie Knopes of the country without seeing the piles of litter, food, and feces in our great national parks.
Because of the government shutdown, I don't have to live in fear that I will die from the E. coli in romaine lettuce. I am so happy that the Food and Drug Administration is no longer invading the privacy of factory farms and making grocery stores feel like an unsafe place through their routine food inspections.
In the face of the government shutdown, scientific organizations such as the Environmental Protection Agency, the National Oceanic and Atmospheric Administration, and the National Science Foundation are left running on discretionary funds, which alleviates my feelings of guilt about anthropogenic climate change. Finally, we can use unregulated chemicals and hunt endangered fish without concerns about government reprisal.
As a student employee, I am really excited to see that even though the federal government is shut down, the government still happily takes out taxes from my paycheck. After all, isn't this the American dream?
Through the government shutdown, I have been able to learn the value of group projects. When trying to complete an HOD assignment in which half of my partners fail to show up and most of the others are still hungover from Tuesday night, I can get really frustrated. The government shutdown made me realize that in comparison, my group projects look wildly successful.
Because of the government shutdown, I feel less guilty for my own fiscal irresponsibility. Recognizing that the showdown over the wall already cost the economy almost the same amount as Trump's wall would cost makes me feel really good that I spent all of my meal money only a week after getting back on campus. After all, meal money is fake money, and isn't that the same attitude Congress seems to hold regarding the federal budget, too?
Article image by Mary Ann Reitano – Own work, CC BY 3.0, https://commons.wikimedia.org/w/index.php?curid=4530290
About the Writer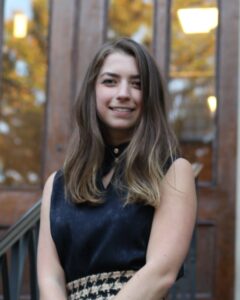 Grace Adcox, Editor in Chief
Grace is a senior in the College of Arts and Sciences, pursuing a double major in Political Science and Asian Studies. As a Nashville native, she can most...