Former Senator Jeff Flake Calls for Stronger Leadership at Chancellor's Lecture Series
Former Senator Jeff Flake traveled to Nashville on January 17, just two weeks removed from his last days on Capitol Hill. A Republican who did not seek reelection in the 2018 midterms, he spoke alongside Chancellor Zeppos, Visiting Professor Jon Meacham, and This American Life producer Zoe Chace as a guest for Vanderbilt's Chancellor's Lecture series. In doing so, Flake became the second former United States Senator to speak at Vanderbilt in the last year, following Joe Biden's appearance in April 2018.
Before his retirement earlier this month, Flake had served in Congress since 2001, during which he belonged to the moderate minority and was one of the few Republicans to openly criticize President Trump. He called for Trump to drop out of the presidential race when the Access Hollywood tape was released in 2016 and has said that Trump possesses a "seemingly bottomless appetite for destruction and division." He is also well known for requesting an FBI investigation into the sexual assault allegations against then-Judge Brett Kavanaugh, though Flake ultimately voted to confirm him.
In 2017, Senator Flake published his book, Conscience of a Conservative: A Rejection of Destructive Politics and a Return to Principle, in which he elaborated on his disapproval of the President and advocated for a return to traditional conservatism. He expanded on the topics discussed in his book at the Vanderbilt Event entitled "The Conscience of a Conservative: Returning to Civil Discourse in American Politics."
"We need to stay focused on traditional conservatism," Flake told a packed Langford Auditorium. "I'm fearful that we're departing from that. That is the soul of the party. It's difficult to come out and say the party has veered from its roots, but I think we need to."
Flake went as far as to say, "we're not long for the earth as a viable party if we continue down this road."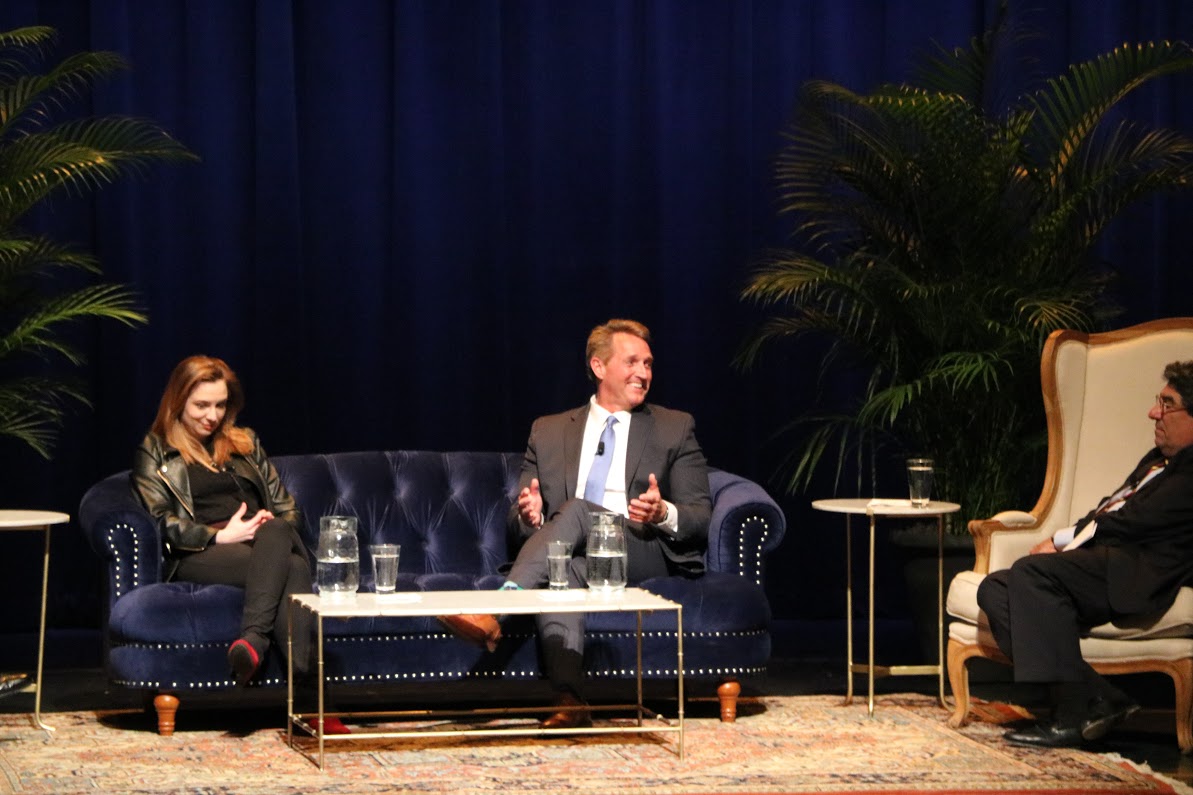 Throughout the talk, Flake voiced disapproval of the President's behavior and temperament. He also credited Trump with dividing Democrats and Republicans, noting that politicians in the current era more frequently treat people on the other side of the aisle not as opponents, but enemies. "The idea that anyone would call [political opponents] on Twitter 'losers' or 'clowns' was unthinkable."
Despite his concerns regarding the future of the Republican party, the former Senator expressed optimism that Trump's grasp on voters is unsustainable. "The Trump base is very real, very solid, but politically it's just not large enough to carry ahead. I say that's a good thing."
Complementing the tone that he took throughout most of the event, Flake announced that he would not vote for Trump in 2020. He did, however, add that he hopes President Trump does not face impeachment. "I didn't support the president then and I won't support him in the future, but I would hate to see him impeached," Flake maintained. "I hope we don't go through [the] process because of what it does to a divided public."
Flake's message of civility has been unconvincing to some, to say the least. A small group of protestors organized by Vanderbilt graduate student Alex Korsunsky assembled outside the doors of Langford to challenge Flake's opposition to Trump. Although he is an outspoken critic of the President, Flake voted with his legislative agenda more than 81 percent of the time.
"You're a coward," an open letter penned by the protestors reads. "You risked nothing in your opposition and stood for nothing with your actions. You are the embodiment of fake opposition, talking a big game on Twitter and then using your political power to legitimize racist and damaging policies. Your words… only seem courageous because you're surrounded by career politicians even more cowardly than you are."
Flake wrapped up the event answering whether he has hope for the future of America. "We have faced some tough challenges over the years," he began. "This system has withstood them all. … But the challenges are steep. When I look over the next two years, I hope we become ourselves again."
Image Credit: Drew Perez