OP-ED: Dear Young Alumni, Let's Make Our Future Donations Matter!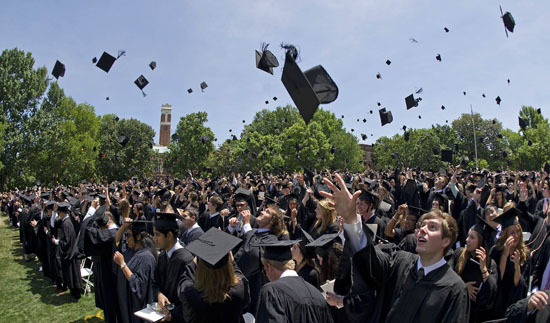 Photo courtesy of Vanderbilt Athletics.
Winston Du is a 2019 graduate of the College of Arts and Science. He can be reached at [email protected].
On a breezy summer morning less than a month ago, I joined my fellow members of the Class of 2019 on Alumni Lawn for our graduation. We walked onto the commencement stage still as students, but we walked off as graduates of Vanderbilt University.
Although we may have received our degrees, our involvement with Vanderbilt has yet to come to a close. Of course, some of us may return to attend graduate school. Others may come back and organize reunions, or participate in any one of over 40 Vanderbilt alumni association chapters. But even for those of us who choose to forgo these activities, every now and then we will still receive a letter in the mail from Vanderbilt, reminding us to make a financial contribution.
My message to you, fellow graduates? Don't blindly donate.
To be clear, I am not advocating (as others have) for us newly-minted alums to withhold our financial gifts to this university. In other words, if you can, do donate! Making sure that a university like ours has the resources it needs to continue its mission is an incredible investment. As Assistant Vice Chancellor Melinda Phillips stated in her letter to the most recent cohort's Senior Class Fund contributors (myself included), our gifts can "help students become the first in their families to attend college [and]… fund innovative curriculum such as Immersion Vanderbilt." It can "provide resources for faculty at all of our schools to pursue research that is the first of its kind."
Yet while I encourage you to give back to Vanderbilt, I also want to challenge you to be creative in your future donation. Address a specific problem. Use your financial commitment as a voice to bring about what you (not the Chancellor or any other university official) think would positively impact our university. I'm talking about effective altruism.
This sentiment may seem premature, especially since few of us are actually capable of contributing much to Vanderbilt at this time. About 20 percent of each recent cohort graduated with debt. But if recent income trends hold any predictive power, in just a few short years (sooner than we may realize), a number of us will find ourselves with the ability to give generously. According to federal post-school earnings data from College Scorecard, almost immediately after graduation 10 percent of us will already have salaries over $100,000, an amount over three times the median individual income in the United States. By our fifth or sixth reunion, 25 percent of us will have reached that milestone, with another 25 percent earning a salary of over $69,000. Considering the high-track careers and industries a number of us are headed into, it is not inconceivable that some of us will be hedge fund titans, Silicon Valley entrepreneurs, or Fortune 500 CEOs by the peak of our careers. Combined with the fact that over 70 percent of the Class of 2019 graduates have already contributed to the Senior Class Fund, many of us indeed will, in time, make substantial monetary gifts to this university.
For those of you who suspect that you might be in this position, please spare a moment to think about the types of changes you had hoped to see as a student.
Consider the campaign for private prison divestment or the protests for tour guide compensation. In our time here at Vanderbilt, these were just two of many issues students felt compelled to bring up to the university administration. Often, these matters were fiercely contentious because our positions conflicted with the financial logistics of our university. But these are problems that can be addressed by sympathetic alumni, even if there are not default donation categories to do so.
When it came to the issue of tour guide compensation, I understood the administration's hesitation. I was not in favor of my tuition dollars going towards a volunteer activity that already had vastly more students interested than required. Nevertheless, I was not opposed to the idea of compensation itself. Alumni could have played a role in crafting a sensible solution: if determined graduates created a fund to specifically cover tour guide compensation, the university administration could certainly not object. This is an example of how as alumni, our future donations might achieve an outcome that eluded us as students.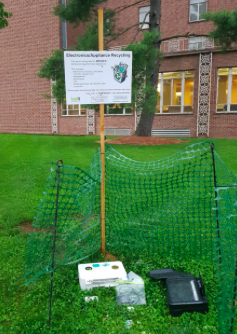 There are countless opportunities for change, and I invite you to think back to the time you spent here on campus. Each of you encountered some flaw that you probably felt needed fixing, if not for yourself then for future students. It could even be as small as a drinking fountain (like the one in Featheringill) that never works. You might not have had the time and money to address these issues then, but you may be able to do so in the not-so-distant future.
For example, as a student, I personally advocated with others for the administration to increase availability of simple classroom supplies like whiteboard markers, cables, and music stands — things we should not lack but do. Some of my peers have felt strongly about the perennial VSG campaign issue: asking for additional staff and resource funding for the UCC (formerly PCC) to better mental wellness care on campus. Other students have brought to our attention problems with the size and faculty diversity of their major departments.
Unfortunately, for structural reasons, the issues we cared about as students may often be the same issues that go unnoticed or unaddressed by a busy university administration. It will stay that way, especially if our alumni donations continue to go only to general buckets like the College of Arts and Sciences or "Yet Another Residential College™." This is why the status quo needs to change starting with us, the newest graduates of Vanderbilt.
Admittedly, crafting a customized, specific donation will be more challenging than simply ticking a box or enclosing a check in the mail on Vanderbilt's annual Giving Day. Some campus issues may be complex, and their solutions will require bold imagination and financial commitments beyond the capacity of a single individual. Many will also require the input and participation of students for success (current students reading this, take note!). But let us begin. Whether it is tomorrow or in the many years ahead, once you are prepared to give back to Vanderbilt, remember to put your donation towards making sure your voice is heard. Embody what it means to be "Vanderbilt for Life."