Belmont University to Host the Final 2020 General Election Debate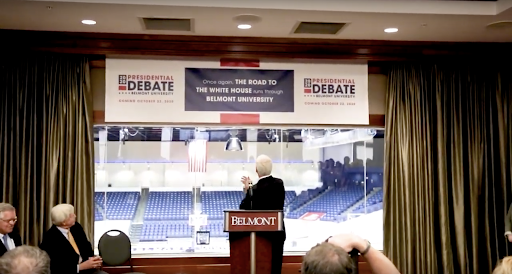 On October 11, the Commission on Presidential Debates announced that Belmont University will be hosting the third and final presidential debate for the 2020 election. The debate will take place on October 22, just 10 days before the general election, between President Donald Trump and the Democratic Party nominee.
The Commission on Presidential Debates (CPD) is a nonprofit that chooses the presidential debates locations. They were established under the joint sponsorship of the Democratic and Republican parties in the United States in 1987. They chose Belmont from a pool of six applicants: Belmont University, City of Hartford, Creighton University, University of Michigan, University of Notre Dame, and the Utah Debate Commission and the University of Utah. 
To be considered as a debate site, a venue must be air-conditioned with at least 15,000 square feet, have a media filing center of at least 20,000 square feet, and have nearby hotels and air and ground transportation networks. Hosting such an event is extremely expensive, which is why not many schools apply for the role. However, it can bring a lot of positive publicity to the host school. 
This is the second debate that Belmont University will have hosted. In 2008, they featured former U.S. President Barack Obama and former U.S. Senator John McCain. In addition, they were selected as an alternate host for the 2016 presidential debates. Belmont is no stranger to hosting major events, such as the Davis Cup tennis competition, a visit from Supreme Court Chief Justice John Roberts, and the taping of the 2018 and 2019 CMA Country Christmas special. 
Robert Fisher, the president of Belmont University, feels that Belmont was chosen for this debate due to their success hosting in 2008. Beyond loving Belmont as a debate site, the Commission on Presidential Debates also loved Nashville. He estimates that there will be between 2,000 and 3,000 reporters here for the event, and that the publicity will be very positive for Nashville as a city. 
In his announcement of the final 2020 debate location, Fisher stated, "In 2008, the town hall debate was a transformative moment for our university. It was a big deal. It changed the way we thought about ourselves. We began to think that we could do anything." Since hosting the debate in 2008, Belmont University has doubled their enrollment, spent $500 million on new buildings, and created several new academic programs. He commented, "In 2008, this really helped us gain national attention and helped folks look at us differently. This time around, it'll just continue to bring national attention to the university." He also noted that since Belmont's last debate, social media and the internet have become significantly more present in our lives, so having such an event televised at their university will be even more publicized. 
Upon hearing the news, Nashville Mayor John Cooper stated, "We are going to be playing a big role in world history coming up next year all due to Belmont University." This 2020 debate is particularly important because it will occur while early voting is going on in some states. It is expected to be viewed by more than 64 million Americans, and will play a crucial role in the 2020 general election.