Politicon: Trump's Republican Challengers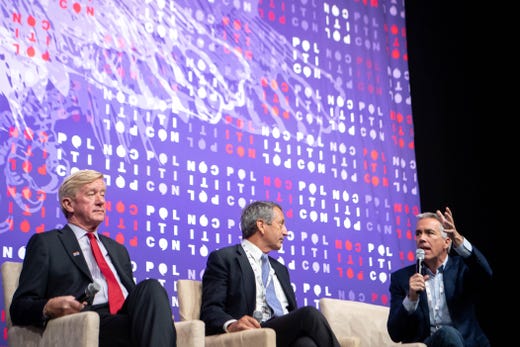 With so much attention being given to the large field of candidates vying for the Democratic party's 2020 presidential nomination, little has been reserved for those challenging President Donald Trump from within his own party. In an attempt to open up this discussion, all of the challengers sat together this weekend at Politicon, an annual non-partisan political convention that has become prominent for merging entertainment with the world of politics. During this panel, they each answered questions from journalist Jennifer Rubin on topics ranging from the removal of President Trump from office, to what their policy on climate change would be. 
As it currently stands, there are three candidates seeking the GOP's nomination over the president: former Governor Bill Weld of Massachusetts, former Governor Mark Sanford of South Carolina, and former one-term Illinois Congressman and talk radio host Joe Walsh. Each has repeatedly expressed their displeasure with the actions of President Trump and believe that they provide more reasonable alternatives for those within the party who share those feelings. 
When asked by the moderator if they supported the removal of the president from office, Weld and Walsh responded yes while Sanford was more reluctant, choosing to say that a congressional censure (which has only been employed once) would serve the country better. In addition to this, all three promised to move forward with prosecuting President Trump should they defeat him and any other opponents in the general election, with Walsh going so far as to say that Trump "betrays this country every single day." 
On the issue of global climate, very little disagreement was to be found between the three. All acknowledged that the current administration's inaction on the topic was disturbing and especially damaging to the Republican party's standing with younger voting demographics. Wash pointed out that "Young people care about climate change, and we have somebody in the White House who calls it a hoax." Both former governors proposed that they would include in their presidential agenda working to implement carbon taxes and emulating the progress that private companies have made in combating climate change. 
Each man also provided at least one individual who they would consider adding to their cabinet once elected. Governor Weld put forward the name of current Council on Foreign Relations president Richard Haass to serve as Secretary of State, while Governor Sanford mentioned that he would very much like former chairman of the Joint Chiefs of Staff Admiral Mike Mullen to serve as his Secretary of Defense. Walsh also said that he would bring former Secretary of Defense General James Mattis back into the fold.    
Weld is often billed as a more Libertarian-leaning option for the position of commander-in-chief due to his 2016 nomination for vice president alongside Gary Johnson on the Libertarian party's ticket. However, his proposed policy of providing government-sponsored education for future displaced workers and support of 'red flag' laws as a means of implementing gun control across the country may have called this characterization into question.
While the likelihood of a sitting president losing the nomination of his own party is quite low, a number of examples exist where an incumbent has faced serious challengers for the nomination. Most recently was that of George H.W. Bush in his 1992 reelection campaign. Though he eventually did retain the Republican party's nomination, he was soundly defeated in the general election by the Democratic candidate Bill Clinton.
Calls for the impeachment of President Trump dominatined not only the discussions at Politicon, but are also increasingly influencing the overall political discourse of the country. As a result of this and other growing criticisms of the president, the three men who shared the Politicon stage this past Saturday morning may soon be subject to increased attention from the media and public at large as we inch ever closer to November of 2020.  
Photo Credit: The Tennessean