Texas Court of Criminal Appeals Delays Rodney Reed Execution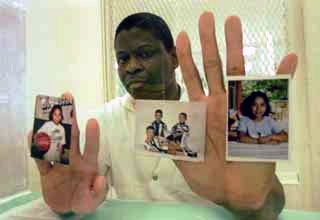 Hours after the Texas Board of Pardons and Paroles unanimously recommended that Governor Greg Abbott delay the execution of Rodney Reed, the Texas Court of Criminal Appeals indefinitely delayed one of the most highly publicized death penalty cases in the country. The state had originally planned to execute Reed on Nov. 20 despite growing calls to stop the execution and new evidence that his attorneys say supports his claim of innocence. In addition to the nearly three million people who signed a petition calling for the execution to be stopped, public figures like Beyonce, Oprah, Meek Mill, and Dr. Phil also stood behind Reed. 
In 1998, an all-white jury convicted Reed, a black man, of abducting, raping, and killing Stacey Stites, a 19-year-old white woman. Stites lived with her fiance, Jimmy Fennell, and worked at a grocery store about 30 miles away from their home. When Stites missed her 3:30 a.m. shift on April 23, 1996, her coworker notified police who then found her body on the side of a road. Medical reports stated that she had been raped and strangled. 
Reed became a suspect in the murder after DNA testing revealed that his DNA matched that which investigators found inside Stites. During an interrogation, Reed initially denied knowing Stites but later stated that he and Stites had a consensual sexual relationship. His defense attorneys were unable to provide witnesses to corroborate the relationship during his trial and prosecutors used the DNA evidence as the centerpiece of their case against him.
The jury found Reed guilty. After hearing that he was a suspect in attacks on six other women, the jury sentenced him to death. Reed was only formally charged with one of those attacks and was acquitted. He denies the other allegations as well.
Vanderbilt criminal law professor Christopher Slobogin said, "The image of an all-white jury convicting a black man for a crime allegedly committed against a white woman is certainly disturbing." However, an all-white jury can be selected through perfectly legal procedures. If potential black jurors were excused for non-race-related reasons, Reed's constitutional rights would not have been violated, Slobogin said. 
In 2008, Fennell, a police officer, pled guilty to kidnapping and improper sexual contact with a person in custody and received a ten-year sentence. According to a Nov. 12 filing with the Texas Court of Criminal Appeals by Reed's attorneys at the Innocence Project, while Fennell was incarcerated at the Stevenson Unit in Cuero, Texas, he confessed to killing Stites to a fellow prisoner, Arthur Snow. Fennell also admitted to Snow that he knew about his fiance's affair with Reed. Slobogin called such a confession "significant" but stated that the authenticity of jailhouse confessions are often challenged.
Initially, Reed's prosecutors painted Stites and Fennell as a happy couple. However, the Nov. 12 filing also includes sworn statements suggesting that the relationship was an unhealthy one, with witnesses stating that Stites was fearful of her fiance and that Fennell may have been verbally and physically abusive towards her. Another witness stated that during Stites' funeral, Fennell said towards her body, "You got what you deserved." 
Reed's attorneys also raised issues with the evidence used in the original trial, the most controversial of which is DNA testing of the belt used to strangle Stites. The same court that delayed the execution had denied multiple requests from Reed's attorneys to test the murder weapon. Forensic experts also dispute the prosecutors'  timeline of Stites' death, which stated that her time of death was somewhere between 3 and 5 a.m. on April 23. The experts for Reed's legal team say that Stites actually died during the late hours of April 22, when she and Fennell were together. 
According to Professor Slobogin, getting appeals courts to hear claims of new evidence in death penalty cases has become harder since the late 1980s. He explained that appeals courts tend to be reluctant to hear death penalty challenges unless the defendant's constitutional rights were violated. Further, if the new evidence could have been discovered through diligent investigation by the defendant's original attorney, courts are unlikely to consider it, he said. These structural obstacles are a result of a slew of Supreme Court decisions from the 1980s and 90s concerned with limiting the "relitigation" of trials in appellate courts.
However, Reed's Nov. 12 brief filed with the Texas Court of Criminal Appeals argues that the new evidence could not have been discovered by Reed's counsel because Reed had no reason to believe that it existed in the first place. On Nov. 15, the court ruled that Reed's due process rights had been violated and that his claim of innocence was substantial, and subsequently ordered that the execution be delayed until the original trial court heard the new claims.    
The appeals court's decision received widespread approval. Proponents of the death penalty, such as Texas State Representative Matt Kreuse, emphasized the importance of making sure "beyond a shadow of doubt" that those that the state executes are truly the perpetrators of the crimes for which they are being punished. Since the death sentence was reinstated by the state in 1982, Texas has executed 566 people, the most in the country.
While the court's ruling represents a significant win for Reed, his legal team, and his supporters, he still remains in jail until the district court rules on the new claims. Reed's attorneys stated that this may happen sometime in the spring of 2020. The movement supporting Reed has since shifted its focus to securing his release from prison.