The Global Chinese Economy Leads to an Equally Global Chinese Censorship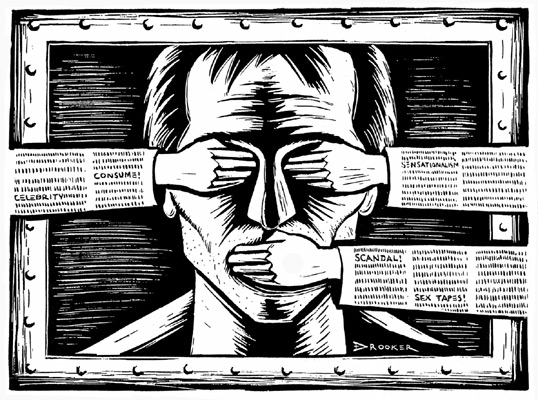 The television show South Park recently aired an episode called "Band in China." It satirizes the tendency of American businesses and the entertainment industry to conform to Chinese censorship in order to enter the lucrative Chinese market that offers potentially 1.4 billion customers. This episode accurately encapsulates the reality of Chinese censorship encroaching into Western life, as Chinese economic influence grows.
In the episode, a producer wants to make a film about Stan's heavy metal band. But the script is preemptively censored to ensure that the film will be permitted in China. Meanwhile, Stan's father goes to China and witnesses how the Chinese government oppresses free expression. Ironically, like many other American businesses, he abandons his values so he can sell his "tegridy," a breed of home-grown marijuana, to China. Then, like everyone expected, the South Park episode "Band in China" was indeed banned in China.
As was depicted in the episode, the Chinese government is harnessing its economic power to enforce censorship both at home and overseas. The Chinese State Administration of Press, Publication, Radio, Film, and Television (SAPPRFT), regulated directly by the Publicity Department of the Communist Party, censors violent and sexual content as well as any material that offends the government's political ideologies and cultural standards. SAPPRFT's primary goal is to "make policies that guide the public opinion and production in the correct direction."
The same SAPPRFT policies and regulations apply to foreign films that are trying to enter the Chinese market. Hollywood filmmakers quickly learned to produce content that would both appeal to Chinese audiences and pass Chinese censorship standards. For instance, Marvel decided to change the Tibetan monk character in the original "Doctor Strange" comic to a Celtic woman, fearing potential backlash due to the Tibetan sovereignty dispute. 
The movie "Top Gun: Maverick" encountered a similar challenge, and a similar choice was made in order to secure its access to the Chinese market. In the original 1986 version of "Top Gun," the main character wears a navy jacket with the embroidery of a Taiwanese flag. However, in the trailer of the 2020 sequel "Top Gun: Maverick," the Taiwanese flag was replaced. 
Chinese President Xi views Chinese economic power as a means to achieve what he thinks is the role of literature and films: "art should disseminate contemporary Chinese values, embody traditional Chinese culture and reflect Chinese people's aesthetic pursuit." As long as the Chinese government keeps operating under this mindset, American filmmakers will be forced to choose between abiding by nebulous Chinese censorship expectations or preserving one's ideological integrity at the cost of millions of dollars in lost revenue.
In addition to American filmmakers, American business owners also face this difficult choice when trying to export their products to China. China's vocal censure of the NBA in particular has brought attention to the longtime practice of self-censorship by many American companies hoping to appease the Chinese government. On Oct 4, Houston Rocket general manager Daryl Morey deleted a tweet that supported the Hong Kong protesters directly after the Chinese technology conglomerate Tencent canceled digital streaming of Rocket's games. The chilling and rapid response of the Chinese government to a singular tweet begs the question: what leverage does an American company have against Chinese censorship?
This leverage largely depends on the elasticity of demand for the company's products in China and the number of competitors the company encounters both in China and at home. International technology companies like Google might have greater negotiating power than other smaller domestic companies. In 2010, for example, Google shut down its search engine in China to protest against China's search censorship (although it did later start a secret search engine project years later that would operate under Chinese censorship standards). 
In January 2018, Beijing required Marriott to shut down its website and app for seven days after Marriott sent their guests a survey listing Tibet, Taiwan, Hong Kong, and Macao as countries. Subsequently, the company announced that it did not support "separatist groups that subvert the sovereignty and territorial integrity of China." Similarly, four American airline companies– American, Delta, Hawaiian, and United– complied with China's order and stopped implying that Taiwan is a country during flight announcements. Even the fashion brands Versace, Givenchy, and Coach apologized for selling designs that undermined the "One China" policy, since the clothing suggested that Hong Kong, Taiwan, and Macau were independent regions.
When China utilizes its increasing economic influence to enforce its favorable political ideologies, many in the U.S. regard it as a threat to free speech. This encapsulates the vast ideological difference between these two countries and is central to the current disagreements in the U.S.-China trade war. The collateral damage of the trade war calls attention to the necessity of collaborations between China and the U.S., especially as the Chinese economy and the U.S. economy become more interdependent. Will these two superpowers find a way to reconcile their ideological differences to create a collaborative global economy? Or will the United States descend into yet another Cold War?
Photo Credit: Censorship, Bill Kerr, © 2006 BILL KERR SOME RIGHTS RESERVED, licensed by CC BY 2.0