VSG Election Update: Primary Election Results
On March 20th, 2020, Vanderbilt undergraduates were notified of the results of the Vanderbilt Student Government Primary Elections. Of the four sets of candidates, Veer Shah and Shun Ahmed along with Jared Bauman and Jacob Rome will be advancing to the General Election.
Of the 2,534 votes cast, over eighty percent were in favor of Veer Shah and Shun Ahmed. Jared Bauman and Jacob Rome followed with a little more than ten percent of votes. The other candidates collectively received approximately eight percent of the total ballots cast.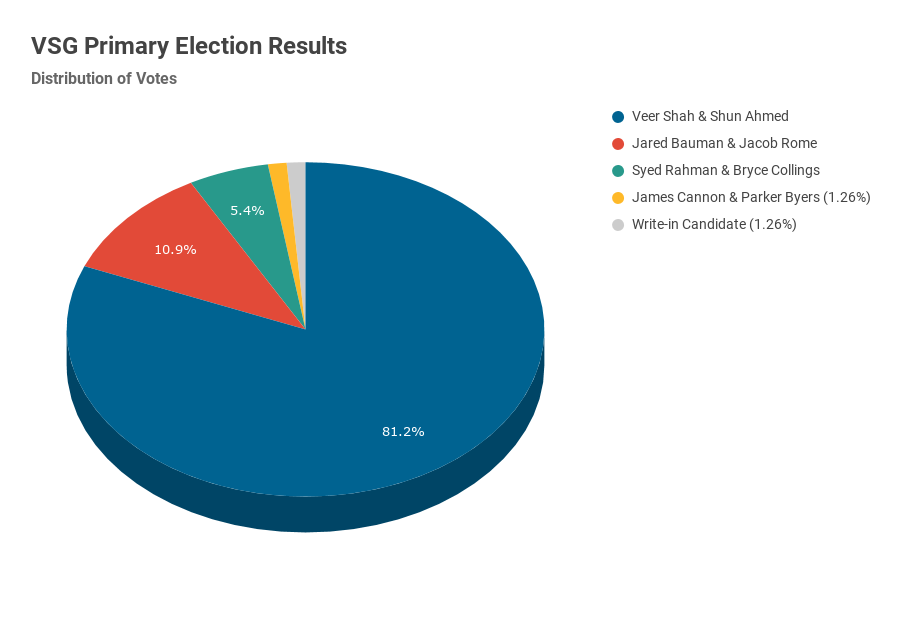 According to the VSG Constitution, all fully enrolled undergraduate students at Vanderbilt are eligible to vote in both the Primary and General elections, including graduating seniors. This brings the number of eligible voters to 6,833 students. However, only thirty-six percent of eligible voters cast a ballot during the Primary election, which marks an eleven percent decrease in voter turnout from last year's General election.
When asked about the low voter turnout rate, the Chair of the Elections Commission said that it was "fairly consistent" with previous elections.
Successful candidates will advance to the General election held from Tuesday, March 24th to Wednesday, March 25th. Voting will start at 8:00 AM CST on Tuesday and end at 12:00 PM CST on the following day. Note that votes from the Primary election will not count towards the General election and students must vote again for their votes to be counted.