WTF Happened to Tennessee's Twentieth District: A Conversation with Sarah McCall
Amidst the uncertainties and hyper-partisan polarization that erupted on the national stage following an extended absentee ballot count last Tuesday, it can be easy to overlook the developments that took place on the local level, especially in a deep-red state like Tennessee. Apart from the dubious honor of casting more ballots for independent candidate Kanye West than any other state in the country, for the most part nothing surprising happened in the state-wide races, with former US Ambassador to Japan Bill Haggerty elected to the Senate and President Donald Trump winning the state by the exact same margin as he did in 2016. The local State Senate race in District 20, however, was a different story.
In a surprising upset, Vice Mayor of Oak Hill Heidi Campbell narrowly defeated two-term Republican incumbent Steve Dickerson by a margin of just under 4,000 votes to become the Senator-elect of Tennessee's 20th District, the first time in over a decade that voters ousted a Republican incumbent in the State Senate. One of three districts in Davidson County, District 20 represents approximately 190,000 residents and comprises some of Nashville's most affluent suburbs, including Belle Meade and Forest Hills. The district, which narrowly went for Clinton but that Dickerson comfortably won by 12 points in 2016, was until now the only Republican stronghold of the three, with Senators Brenda Gilmore (Vanderbilt M.A. '81) and Jeff Yarbro retaining Democratic control by comfortable margins in Districts 19 and 21, respectively, in 2018.
The election itself represents a somewhat unprecedented shift from the area's sleepy yet civil local politics of just four years ago, with Republican Lieutenant Governor Randy McNally's Political Action Committee releasing a seething attack ad taking aim at Campbell, characterizing her as "unhinged" and "standing with the Defund the Police Mob." Dickerson, for his part, disavowed the commercial in an interview with the Tennessee Lookout, asserting emphatically that he felt "nauseated" after viewing it.
Campbell's victory represents a push toward progressive politics in Nashville's suburbs: Dickerson has consistently been one of the most moderate Republicans in the state legislature, refusing to endorse then-candidate Trump in 2016 and in the weeks leading up to the election emphatically affirming his support for LGBTQ rights and calling for the legalization of medical marijuana. Campbell campaigned largely on the basis of his history of moderation being insufficient to represent Nashville interests, pointing to his decision to skip polarizing votes, including the controversial heartbeat bill signed in June which banned abortions as early as six weeks.
Politics does not exist in a vacuum, and this race was no different. To get an insider look into some of the work that went into this campaign, Vanderbilt Political Review spoke to Sarah McCall, Executive Director at Women for Tennessee's Future, a local PAC that endorsed Campbell and was instrumental in her electoral success. This interview has been formatted and edited for clarity:
On Women For Tennessee's Future (WTF)
"Our mission is to elect Democratic, pro-choice women to local and state office here in Tennessee. We were founded about eight years ago by a group of Nashville women who were looking at their local officials and asking themselves 'Why aren't there more women in office in Tennessee?'"
On women in politics 
"Nationally, Tennessee ranks in the bottom ten states for the number of women in public office. There are a lot of historic barriers for why women have been underrepresented in office. One of the barriers women face is running for and competing in the elected public office is that they oftentimes have less access to financial resources and the money it takes to run a successful campaign. Women are less likely to view themselves as political candidates or qualified to vote for office; women really have to view themselves as qualified. We always make the joke: to run for city council they'll be thinking they to need to have two Master's Degrees and be an expert in policy."
On structural barriers 
"A lot of times when we are looking at these seats that we are trying to fill, candidates are recruited to run for these offices by the powers that be, whether that's the Democratic Party or the county party. A lot of times the people that are being recruited are men, so having organizations like WTF is important to ensure that we are recruiting women."
On the race 
"A large space of our donors live in the Nashville area, so they were very interested in this race. In fact, the woman who ran in the cycle before against Dickerson was also a WTF-endorsed candidate, Erin Coleman. Senator-elect Campbell made history: she's going to be the first woman to represent Tennessee's twentieth district, but these things don't happen overnight."
On the attack ad
"I think the GOP probably did have an error in their calculation based on their methods against Heidi, I think that messaging probably hurt Dickerson more than it hurt her."
On Senator Steve Dickerson 
"I think Dickerson didn't really do himself any favors. During an important vote on abortion rights, he tweeted a picture of him taking a nap in the chamber. You know, the public doesn't want to see that. I think Heidi demonstrated through her work and as a community leader, I think voters were looking for an authentic leader."
On the significance of flipping the seat
"In our hyper-polarized times, the fact that Democrats are in a super-minority in the legislature, it's so critical that every additional Democrat is going to be one more voice against the bad policymaking that is coming out of the GOP. Dickerson might be a moderate, but we don't need moderates; we need Democrats to fight. Up until now we had five Democrats in the State Senate; to get a Bill through the Senate Floor it has to get through the committee process. Because we had so few Democrats in the State Senate, they couldn't even get a Bill to the Senate floor because you need a motion but they never got that crucial second motion in a committee. Heidi will be that second motion in the committee hearings."
Image Credit: "Tennessee State Capitol Nighttime" by Ichabod is licensed CC BY-SA 3.0
About the Writer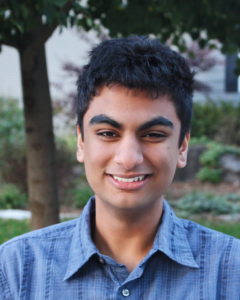 Sahil Soni, Senior Editor


Sael is a senior from Madison, Wisconsin, majoring in Chemistry and Economics. At Vanderbilt, he is active in the Vanderbilt Debate Team and Project:...