In a city continuously coming under the unilateral control of a Republican legislature, Nashville's Democratic youth are becoming an increasingly important voice. On November 1st, 2023, the Vanderbilt College Democrats collaborated with the Belmont College Democrats to host four progressive lawmakers to learn from their insights. The four-person panel at the Wond'ry featured Tennessee State Senator Heidi Campbell, Tennessee State Representative Aftyn Behn, Tennessee State Representative John Ray Clements, and Nashville Metro Councilwoman Quin Evans-Segall.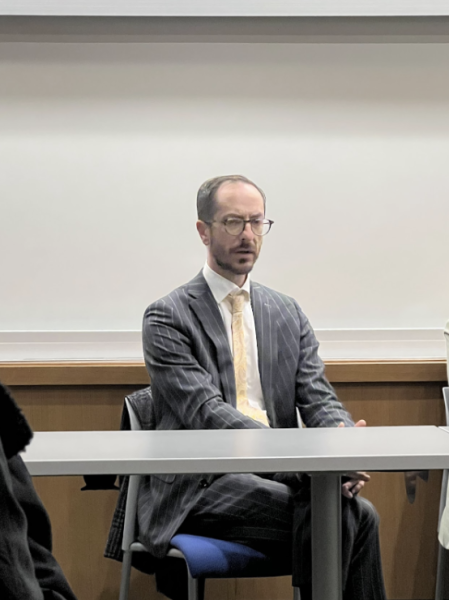 Asked about the pressing issues that Tennessee faces today, each lawmaker provided unique answers. Representative Clements expressed dismay at Tennessee's deliberate neglect of public schools. "Right now, our colleagues across the aisle are purposely and strategically undermining public education… in Tennessee, they have done it in puzzle pieces from here and there by steering money out of public schools into private hands. They're underfunding teachers and taking away their benefits." Representative Clements continued with explanations of how the mistreatment of Tennessee public schools is affecting students at Vanderbilt. Speaking directly about Vanderbilt students aspiring to become public school educators, he stated that they are "going over to Peabody to invest a lot of time and money in a great education, and they last three years on average as teachers in Tennessee."
Representative Behn spoke soberly of Tennessee's laws governing abortion and transgender rights. "For those of you who don't follow politics religiously in Tennessee, we have the most extreme abortion ban in the country… We have banned gender-affirming care for trans kids. My partner has a trans child and now has to drive to Metropolis, Illinois to get medicine once a month," she spoke. She attributed the restrictive laws to the current Republican supermajority in the state legislature and urged students to mobilize and vote for progressive representatives. "The hope for you all is that there is a really important election next year, and we can change the face of the [state] legislature," said Representative Behn. 
Senator Campbell's chief concern involves the need for gun control in the state; last year, the Covenant Shooting occurred in her district. As she conveyed her determination to implement measures against gun violence, Senator Campbell seemed hopeful about the potential for collecting bipartisan support: "For the first time, we have some Republicans that are actually up [in the state government] demanding some change on that." 
The night continued with discussions about the importance of youth voter turnout. "Tennessee is in a terrible state… but the political landscape of Tennessee could change overnight if we increase voter participation by ten percent among 18 to 40-year-olds," voiced Representative Clements. Councilwoman Evans-Segall recalled her time in college at the University of Alabama, stating that "if you were in a sorority or fraternity, you rode in a bus to the polls the day of the election, and they got you there. It didn't matter what party you were." Perhaps student organizations at Vanderbilt should consider beginning this tradition.  
About halfway through the event, newly elected Nashville Mayor Freddie O'Connell made a surprise appearance. Initially taking a seat in the back of the room away from the panel of speakers, students were eager to bring the mayor up to the front to discuss his first month in office and vision for Nashville. Mayor O'Connell spoke in-depth about how community-building happens through changes in city planning. "Don't imagine that politics exists in some abstract space that doesn't affect your life," Mayor O'Connell told students. "Vanderbilt is closing a street right across the street to make this campus more connected and pedestrian-friendly… You better believe the local council members who have worked on this project are trying to do that because they are trying to represent a community that has more people walking, has more people biking – a more united community."
While the featured speakers voiced some poignant worries, the night concluded with a tone of hope – hope that Nashville's youth will work to make the city, the state, and the nation better for all. The featured panelists shared unique answers, but embedded within their wisdom was a common theme: students possess the ability to enact meaningful change. Considering that theme, any attentive watcher of the event could see that the Vanderbilt students listening to the political leaders of today will — in due time — become the political leaders of tomorrow.