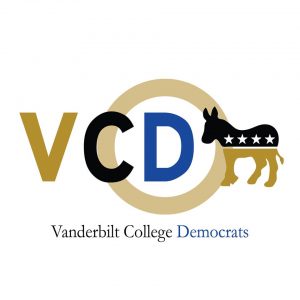 To current members, alumni, and the Vanderbilt student body:
Every four years, we as Americans have the privilege and responsibility to elect the most capable candidate to lead our country. Even after a tense a primary election cycle, the Vanderbilt College Democrats have remained united. We have deliberated with, learned from, and respected one another in order to unite our support for the strongest candidate.
This fall, the we stand proudly as one community in support of Hillary Rodham Clinton as the next president of the United States.
Hillary Clinton's agenda puts working Americans first, which means making quality, affordable health insurance available for everyone. Prescription drug prices have risen at an unsustainable rate. Hillary Clinton will fight to bring costs down so that all Americans can access the medications they need. A healthy American populace means a thriving American economy.
A strong American economy is an economy that works for all Americans and treats people of all genders, races, and sexual orientations equally. As we have seen in North Carolina and other areas of the country, the fight for LGBTQ rights is far from over, and this year the GOP passed the most anti-LGBTQ platform in American history. The passage of the Equality Act is paramount to Hillary Clinton. If passed, it will protect LGBTQ Americans from discrimination in employment, education, housing, and many other areas. Hillary Clinton will lead us into a future in which everyone can work, live, and thrive without fear of discrimination.
The United States must also reform its criminal justice system. Today, America incarcerates 2.2 million people—the world's highest rate. Hillary Clinton will refocus our resources towards violent criminals and away from low-level, nonviolent crimes. She will also put an end to private prisons, which often deprive inmates of basic resources. Most importantly, Hillary Clinton will work with police departments to improve their relationships with communities so that crime and violence is reduced, allowing more Americans to work and live freely.
Another important part of Secretary Clinton's platform is education reform. Hillary Clinton has pledged to ensure that every American can graduate from college debt-free. Additionally, all students whose families make under $125,000 a year will be able to attend a four year in-state public college or university tuition-free, and community college will be free for all Americans. For those burdened with student debt, repayments will never exceed 10% of income, and all student debt will be forgiven after 20 years. Under Hillary Clinton, the interest rates on government student loans will be cut so that the federal government never again profits from students. What's more, aspiring entrepreneurs will be able to halt their repayments for three years, and social entrepreneurs will be eligible for up to $17,500 in loan forgiveness. Furthermore, Clinton will take immediate executive action to offer a three-month moratorium on student loan payments to all federal loan borrowers. That will give every borrower a chance to consolidate their loans, sign up for income-based repayment plans, and take advantage of other opportunities to reduce their monthly burden.
This election will determine whether the US will lead the world in the effort to stop climate change and build a path towards sustainable global development. Hillary will invest billions of dollars in clean energy and infrastructure, creating millions of new, well-paying jobs. She will install half a billion solar panels by 2020, and will end wasteful subsidies for oil and gas.
It is the responsibility of the American people to elect the candidate who can best navigate our complex foreign policy issues, including a strained relationship with Russia, a fracturing European Union, and a deadly crisis in Syria. Only one candidate has the expertise and temperament to face these challenges. Since World War I, the world has looked to the US for leadership. We as voters have the power to determine not only the course of our own nation but also that of the world.
That's why we're with her. Because we believe that women's rights and LGBTQ rights are human rights. Because we believe we should celebrate our diversity, not suppress it. Because we believe that education is the key to America's future. Because we believe in a criminal justice system that serves and protects Americans. Because we believe that good healthcare should be accessible to all. Because we believe in preserving the Earth for future generations. And because we believe that America thrives when its middle class thrives. For these reasons and more, the Vanderbilt College Democrats urge you to vote for Hillary Clinton on November 8th.