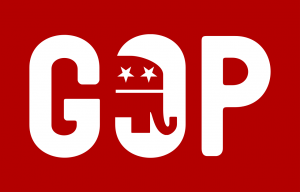 I walked into the cavernous stadium and took my seat in the designated press section.  Delegates and spectators milled about on the floor below, brandishing weapons, cowboy hats, and dual-sided signs that read "Make America Great Again, Again" and "Build that Dome!" I spotted Bob Dole being wheeled into place near other GOP dignitaries.  After a minute, a man made an announcement from the stage, and the milling and brandishing decreased to a mild lull.  Day 3 of the 2032 Republican National Convention had begun.  
First up to speak was the aptly-named Eugene Rifle, a veteran who received a Purple Heart for his service in the Great American Defense of Freedom at Our Southern Border (GADFOSB).  The double amputee, one of two soldiers wounded in GADFOSB, proved to be the right choice to warm up the crowd.  "I don't think I need to tell you that the world is a dangerous place," he yelled, holding up his stump as evidence.  "We've got the Mexicans to the south, and even though the Russians are out we've still got the Chinese.  Make no mistake: these people are our enemies.  It's about time the country elected a real man again," he said, drawing chants of "build that dome!" that were impressive for the still-gathering crowd.  He regaled the crowd with war stories, bringing many to tears.  
As the carousel of speakers spun on, I turned my attention to the news media, a spectacle in its own right.  Buzz Network occupied almost three whole converted-luxury boxes.  Walking by, I could hear their commentators reacting to celebrities' reactions of the convention proceedings, followed by the commentators reacting to the social media reactions to their (the commentators) reactions.  It was enough to make my head spin.  On the stage, a senator from Georgia called out, "we don't have time for no studies or fancy research. A study won't protect your family, and a study won't protect this country!" which was met with yet more calls of "BUILD THAT DOME! BUILD THAT DOME!"
I made my way over to the old guard, CNN, and listened in to the commentary.  As I approached, one commentator, an older gentleman, asked his colleagues "why, even though the data shows that Americans are less likely to be a victim of violence now than they ever have before, and 5% less likely than they were 8 years ago, why are Republicans so focused on this issue?"  To which a younger woman to the left replied, "you can pull out numbers all you want, but the American people know the truth.  They see it every day in their virtual reality headsets.  Just yesterday an elderly woman, a church-goer, a pillar in her community, was struck and killed by a Chinese motorist who was driving manually.  And now we find out that he was once a member of the communist party.  And just the other day, Americans everywhere saw, in graphic detail on their headsets, the second death due to asian-bird flu in the past three months.  The American people are not stupid.  They know what's going on despite liberal attempts to distract them."
By 10pm every seat was filled with a caucasian butt, all attendees waiting eagerly for Vice Presidential nominee Stephen Strong to speak.  He walked onstage to pyrotechnics that would've made the late Michael Bay jealous.  
"Hello Republicans!" the preacher bellowed as he reached the podium.  "And hello America!  That's right, I'm talking to all of you. Because this country is in a spiritual crisis.  An existential crisis!"  As chants of "USA" filled the arena, Strong announced, "do you hear that? Do you hear those beautiful chants of USA filling this dome?  That's how it will sound when our fearless leader, Mr. Andrew Halper, builds the best, most beautiful dome you've ever seen over these United States of America."
The VP nominee proceeded in the way we've come to expect, and the crowd's enthusiasm rose with his.  He said Halper had a "divine calling" to protect America from danger, especially the bird flu, which, he said, the chinese were "sending here to intentionally undermine" our country.  "And why?  Because they hate our freedom.  So many people in the world hate us because of our freedom.  And that's because they can't understand what it's like to live freely, to worship freely, to protect yourself freely.  To earn your living with dignity and hard work.  They hate us for it!"  
Moments later, Strong called for a return "to the party of Lincoln, the party of Reagan, the party of Trump."  With the fire-and-brimstone speech reaching crescendo, a red-colored laser splashed "MAGA²" across the screen, sending the crowd into a frenzy. The Texan delegation's hats took flight, and several attendees had to be talked out of unloading their assault-rifles into the sky.
Leaving for the night, I ran into the CNN commentator I'd overheard earlier.  I asked him what he made of all the fear mongering we'd heard.  He sighed and said, "I posed the same question to Mr. Strong earlier.  He asked me what the hell 'mongering' meant then started lecturing me on what losers journalists are.'
"Hey," I said.  "Facts have a well-known liberal bias."  And we both laughed despite wanting to cry.