It was a quiet and cool Sunday evening at Vanderbilt University, and the Vanderbilt Political Review (VPR) was having an executive board meeting in Kissam C216. In the minutes leading up to 8:00pm, VPR exec members filed into this large and lavish lecture hall armed with our laptops and Nalgene bottles hoping to fulfill our executive duties for the week. Known for our tireless work ethic, superhuman typographical skills, and incredible punctuality, we VPR exec members were prepared for yet another productive meeting in the room we had so thoughtfully booked beforehand, only to find that at 8:00, the time that we had reserved the lecture hall, the Vanderbilt Speakers Committee had occupied the room long past the time for which they had reserved it. It is rumored that a few harsh words were exchanged between Editor-in-Chief Avi Mediratta and certain unnamed members of the Speakers Committee, but eventually tensions were eased and the Committee agreed to leave the lecture hall. VPR board was pleased that we could now engage in a fulfilling board meeting, but there was another problem.
Not only did the Speakers Committee overstay their room reservation by one minute and twenty-seven seconds, but they also neglected to erase the whiteboard before leaving. This act of inconsideration, VPR exec members unanimously decided, was simply inexcusable. Common decency dictates that one must erase any and all used whiteboards before leaving a classroom. As a punishment for the Committee's transgression against our community, VPR has elected to release the information contained on these whiteboards to the wider Vanderbilt population, in hopes that the dissemination of the ideas discussed in the Committee's confidential meeting will both create a dialogue among Vanderbilt students about which speakers would be interesting to hear on campus and further discourage the Speakers Committee from conducting future sloppily-executed and irresponsible practices. It is rumored that the names written on the board are ideas for speakers to invite to this year's Impact Symposium.
Of course, we at VPR have no interest in engaging in "Gotcha" journalism; we obviously reached out to members of the Speakers Committee informing them that we possessed photos from their meeting and intended to release them. Their only comment was that members of the Vanderbilt community should be prepared to come to their event on October 8 with Daymond John, entrepreneur and host of the ABC series, Shark Tank. Clearly, the Speakers Committee takes their publicity seriously, and we respect that.
Below you will find the leaked images from the Speakers Committee's brainstorming session: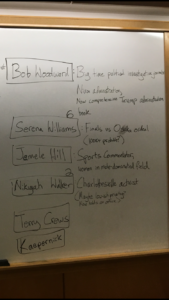 At first glance, you may see why this absolute mess of a whiteboard was infuriating to us when we started our meeting, because you need to stand on your toes and wave your arm around like it's a Beyoncé concert just to get every last annoying streak of black marker off of the board. It's the kind of mess that isn't necessarily going to ruin your entire day, but when you need to jump to erase a whiteboard it's just a little disconcerting and it makes you wonder why the previous occupants of the room couldn't have just written a little smaller.
The point being, we were annoyed, but that was before we began to read some of the options that had been discussed for speakers being brought to campus this year. All things considered, VPR is actually quite proud of the Speakers Committee for suggesting some very politically relevant speakers for this year's Impact Symposium. Normally, this kind of reporting is not primarily what we as a publication are interested in, but considering our mission of facilitating political dialogue here on campus, we thought we would make a case for some of the more politically relevant individuals on the Committee's list to come to campus. It would be impossible to dive into the resumes of all the individuals written on the board, but here we will briefly mention a few.
Government
Hope Hicks:As the former White House Communications Director, Hope Hicks openly admitted to telling "white lies" on President Trump's behalf during her time working for the him. A former teen model, Hicks served in the White House for approximately eight months.
Media
Meghan McCain: Daughter of the late US Senator John McCain, Meghan McCain is a television personality known for being a former commentator for Fox News and a co-host for the popular daytime talk show, The View. With her background in a politically relevant family and her experience in the media, a talk with her is likely to have no shortage of potential topics.
Janet Mock: She is perhaps one of the most well known transgender activists in the world. Born in Hawaii, Mock has a life story that one could only imagine in the movies, with highlights including working at a strip club to finance her move to New York and publishing a best-selling novel.
Bob Woodward: If Speakers Committee gets Bob Woodward, we are sure that the entire staff of VPR will come to the event, probably salivating at the thought of all the rich discussion about political journalism that will surely be occurring. An investigative journalist for the Washington Post, he is one of the reporters who uncovered the Watergate scandal during the Nixon administration, and on Tuesday of this week he published his long-awaited book, Fear, an exposé of the dysfunction inside the Trump White House.
Sports
Billie Jean King: She is a former professional tennis player and best-known for defeating the retired male player Bobby Riggs in the so-called, "Battle of the Sexes," which would later inspire a movie made about the match starring Steve Carell and Emma Stone. This event was seen as a milestone in the feminist movement, and it is likely that gender politics and social equality would be a theme at this potential speaker's event.
Serena Williams: With not one, but two world class tennis players on their list of potential speakers, the Vanderbilt Speakers Committee clearly likes to aim high. Not only is she one of the greatest athletes in modern history, but she is also a vocal feminist and is outspoken about gender equality. Recently at the US Open, an official gave Williams a harsh penalty for arguing a call, which she (along with numerous male tennis players) argues would not have happened if a male player had made similar complaints to an official. If this talk happens, we at VPR hope it would hit hard on gender discrimination in sports.
Colin Kaepernick: They're really throwing a Hail Mary here. One of the most controversial figures in American politics is currently a former NFL quarterback. When he elected to stay seated during a playing of the National Anthem, Kaepernick started a movement among athletes protesting racial injustice. If the Speakers Committee can make this happen, their meetings can go as late as they like and we will not interrupt.
There are many more noteworthy individuals on the list compiled by the Vanderbilt Speakers Committee, and we invite readers to look over the list themselves. We at VPR have great expectations of the Speakers Committee, which is why we wish to get the word out to the Vanderbilt community and urge that the Committee bring politically relevant speakers to campus. As a forum for intellectual discussion, this university should encourage politically active speakers to appear on campus, and we would be thrilled if a noteworthy individual on the Committee's list could engage in a political conversation with us here at Vanderbilt.
It should be noted that the names written above are simply part of the Committee's brainstorming and it is very possible that none of these individuals come to Vanderbilt, but VPR has high hopes that the Speakers Committee will deliver us an engaging speaker who will enrich the intellectual discussion on this campus. When that happens, our contributors will be there urgently taking notes for future articles, and after we finish brainstorming our articles, we will erase the whiteboard.